Journal & database cancellation project
Overview
Murphy Library is facing a 20 percent reduction to our collections budget this fiscal year—a budget that has remained flat for over 20 years. This amounts to a $226,148 cut. As journals and databases take up the largest portion of our budget, we need to reduce the number of resources to which we subscribe in order to meet this budget reduction.
Historical context
The Library's acquisitions budget has remained flat since 1999. In fiscal year 2015/16, the budget was reduced by $78,000. During this time, journal and database costs have risen at a rate of 5 to 6 percent per year (*). While funding from other sources, such as the Academic Initiatives Differential Allocation Committee (AIDAC), have helped keep us afloat, it has not been enough to compensate for prices continuing to rise every year. Subsequently, journals and databases have been taking up an increasing portion of our budget (see below for a breakdown of our spending by resource type). With the 20 percent reduction to our budget, we have reached the point where we are forced to make substantial cuts to our e-resource subscriptions.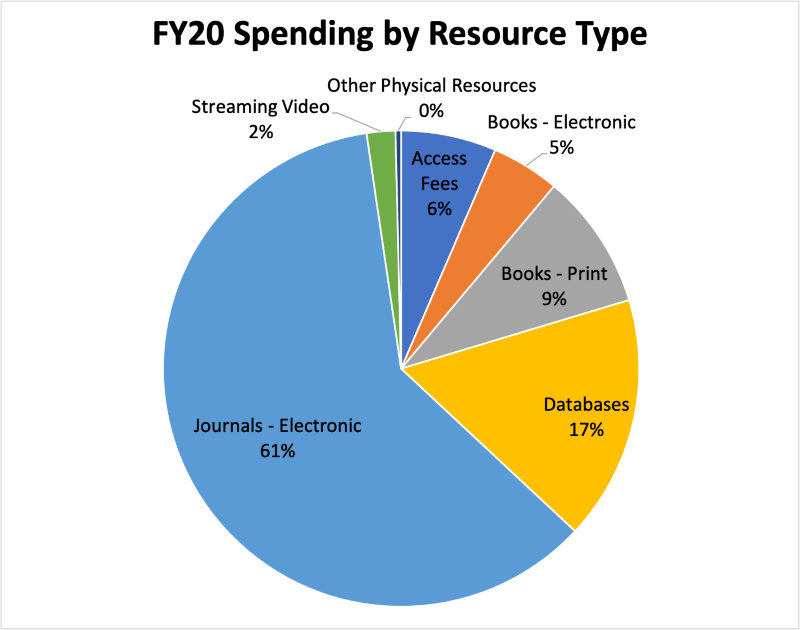 Fiscal Year 2020 Spending by Resource Type Graph
Timeline
Fall 2019: Librarians embark on a Resource Prioritization Project to identify possible resources for cancellation due to rising journal and database costs and in the event of a budget reduction.
August 2020: The Library is notified of a likely 20 percent reduction to our supplies and expenses budget. The estimated target amount to reduce is $226,148.
August 2020: Librarians begin notifying journal and database vendors of the reduction and engage in negotiations for reduced pricing.
September 2020: Budget reduction is finalized.
September 2020: Librarians survey faculty on essential journals.
October 2020: Librarians have initial meeting with Faculty Senate Library Committee to communicate process and goals for journal and resource cancellations.
Fall 2020-Spring 2021: Librarians continue to gather feedback from UWL community regarding databases under consideration for renewal or cancellation.
Late Fall 2020: Proposed cancellations to be communicated to UWL faculty.
January 2021: Journal cancellations to take effect.
Spring 2021: Database cancellations start to take effect.
Date last revised: 11/5/20
Cancellation decision criteria
These are the main criteria librarians are using to make cancellation decisions:
User feedback

Cost

Annual increases

Recent and historical usage data

Alternate access to content

Curriculum

License terms

Publisher practices and purchasing models

Ability to procure resources from other sources, such as interlibrary loan (ILL)
Resources currently under review
Please check back for additions and updates. Note the deadlines listed below if you would like to provide feedback for any of these resources.
| | | | | |
| --- | --- | --- | --- | --- |
| Resource | Deadline for Feedback | Current Subscription End Date | Notes | Cost |
| | 12/1/20 | 12/31/20 | BrowZine is a journal browsing and reading platform. It also enhances journal records in our catalog with cover images and table of contents links. If we cancel, we would not lose access to any journal content. | $5K-$10K |
| New York Times Online (nytimes.com) | 12/1/20 | 12/31/20 | Several e-resources in our collection provide alternate access to New York Times articles, including same-day access in the US Newsstream database. | $5K-$10K |
| | 12/1/20 | 12/31/20 | There are a number of alternative journal ranking sources that are freely available. More information can be found on the Journal & Citation Metrics LibGuide. | $5K-$10K |
| | 12/1/20 | 12/31/20 | The library still maintains the print volume of this publication in the Reference Collection. Many of the statistics included in ProQuest Stat Abs can also be found in the Data Planet database. | Less Than $1K |
| | 12/1/20 | 12/31/20 | Ulrichsweb is a comprehensive index of journal bibliographic and publisher information. Most of the information included in Ulrichsweb is freely available through other sources. | $1K-$5K |
Cancellation decisions
Journals
A list of cancelled journals will be added here once finalized.
Databases
A list of cancelled databases will be added here once finalized.
Additional questions or comments?