Area research center
A page within Murphy Library
The La Crosse Area Research Center (ARC) is located within the Special Collections area in Murphy Library at the University of Wisconsin-La Crosse. The ARC is a regional repository for Wisconsin Historical Society (WHS) material, and it is part of a network of fourteen archives located across the state of Wisconsin. This collection totals over 1,000 linear feet of public records, manuscript collections, and 450 reels of microfilm. Unlike other materials in Special Collections, ARC materials may (in most cases) be transferred to other ARCs within the network and the WHS located in Madison, Wisconsin. For more information on the ARC network see: Area Research Center Network.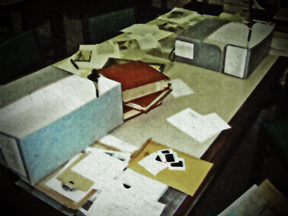 ARC materials in use.
Area Research Center materials
The La Crosse ARC holds public records and manuscript collections for five area counties: Jackson, La Crosse, Monroe, Trempealeau, and Vernon. Public record holdings include: vital (birth, marriage, and death) records pre-1907, probate cases, deed records, naturalization papers, and tax rolls. Manuscript collections include materials from individuals, businesses, and local organizations. Some examples of manuscript holdings at the La Crosse ARC include the papers of the Hixon family, prominent business owners in La Crosse, the papers of Elizabeth Comstock, a physician in Trempealeau County, and the collection of Henry Bliss, a surveyor in La Crosse.
To search for WHS/ARC manuscript collections and public records use Search@UW, found near the top of this page. Click on the What is Search@UW link, and then limit the scope of the search by selecting Archives and Special Collections from the dropdown menu behind the search box. Many materials within the network can also be searched for at the University of Wisconsin Digital Collections Archival Resources in Wisconsin: Descriptive Finding Aids Search.
Speak to or email one of the Special Collection librarians, if you would like to request material from another ARC.