Steamboat photographs
A page within Murphy Library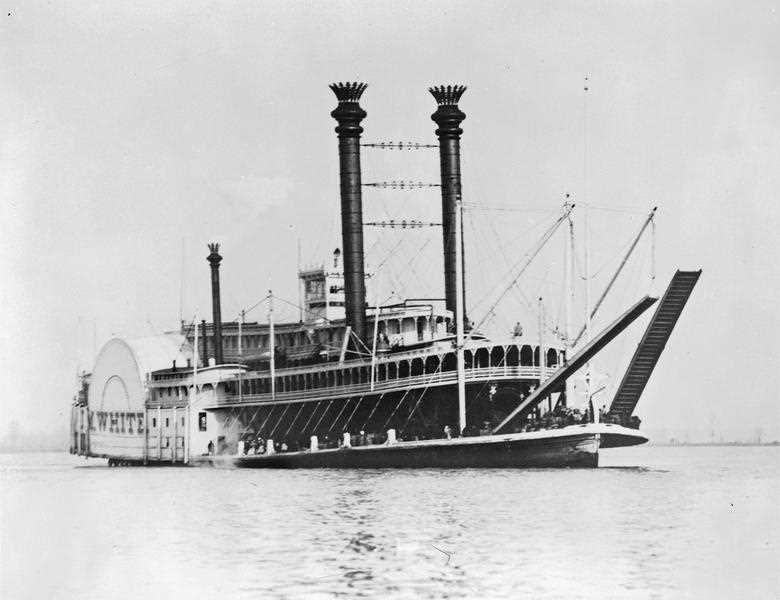 J. M. White Steamboat
J.M. White steamboat
Special Collections holds approximately 50,000 photographs of inland river steamboats and river scenes, making this one of the nation's largest collections for this subject matter. Steamboat photos at Murphy Library are filed by boat name, with a corresponding paper file of basic information. Among river scene images are bridges, locks and dams, river towns, levees, boatyards, boat crews, river construction, fishing, clamming, swimming, and other river activities. Best represented in this collection are the Ohio and Mississippi River systems. View the online collection here: UW Digital Collections - UW-La Crosse Historic Steamboat Photographs.
---
J. Mack Gamble Fund, Sons & Daughters of Pioneer Rivermen
The steamboat collection at Murphy Library would not have been possible without the generous assistance of the Sons & Daughters of Pioneer Rivermen. For over thirty years, the Sons & Daughters provided financial support to Murphy Library through the J. Mack Gamble Fund to collect various steamboat images from across the nation. The fund also covered the expenses involved in making copy negatives and prints. Murphy Library extends sincere gratitude to the Sons & Daughters of Pioneer Rivermen for their support.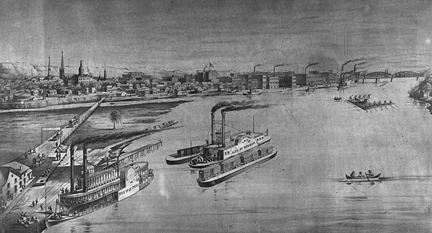 Steamboats at North La Crosse 2
La Crosse, Wisconsin, steamboat landing
---
Ralph DuPae - Steamboat Sleuth for Murphy Library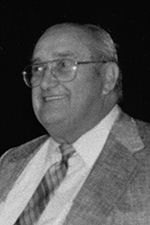 MurphyAward_DePue_1987
A life-long La Crosse, Wisconsin, resident, Ralph DuPae spearheaded a 37-year, volunteer effort to collect steamboat photographs for Murphy Library. Throughout the years, DuPae traveled extensively and talked to numerous dealers and private collectors in search of the best steamboat images. In 2004, DuPae was a co-winner of the Wisconsin Governor's Archives Award in the archival advocacy category in honor of his efforts. The award commended DuPae for organizational leadership, public advocacy, and volunteer support of a Wisconsin archive. The nomination papers commented that DuPae's determined endeavor had resulted in a collection that is a "national resource" that "has brought recognition to [...] the University of Wisconsin-La Crosse and the La Crosse community." DuPae passed away on October 5, 2008.