Special Collections actively seeks out and maintains archival materials related to UW-La Crosse. Materials in this collection include the student newspaper, photographs, yearbooks, university catalogs, various campus publications, and staff, student, and office records of a public nature.
Many historic UW-La Crosse photographs are digitized and can be viewed online here: UW Digital Collections - UW-La Crosse Historic Photographs.
The Racquet student newspaper and yearbook, theAlumnus magazine, the Catalyst, course catalogs, plus more, are also digitized for online viewing on the Murphy Library Digital Collections webpage.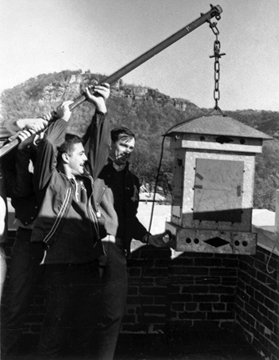 UW-La Crosse Homecoming
Hanging the homecoming lantern off Main Hall, 1967
---
Oral History Program and Collection
Special Collections, in cooperation with the History Department and Oral History Program, stores and maintains over 3,000 hours of oral histories. History professor Howard Fredricks founded the Oral History Program at UW-La Crosse in 1968. Fredricks is personally responsible for over 2,500 hours of interviews, which have helped to make the oral history collection at UW-La Crosse the second largest oral history collection in Wisconsin. After Fredricks retired, Dr. Charles (Chuck) Lee of the UW-La Crosse History Department became the executive director and ran the UW-La Crosse Oral History Program until the spring semester of 2015. Dr. Tiffany Trimmer, UW-La Crosse History Department, is the current executive director of the Oral History Program.
University Archives - Howard Fredricks - Oral history
Howard Fredricks conducting an oral history interview
The UW-La Crosse Oral History Program conducts interview projects that focus on the history of the La Crosse area, concentrating on two major themes: community and the history of UW-La Crosse. The collection is regionally and nationally significant and covers various topics including: the Hmong refugee experience, frontier town life, Midwestern rural life and culture, the Mississippi River, and the history of UW-La Crosse.
A grant from the National Historical Publications and Records Commission (NHPRC) enabled Special Collections to add the oral histories housed in its facilities to the library's catalog. Murphy Library received the $48,000 matching funds grant in the year 2000 with the ultimate goal of improving access to the oral history collection and to ensure the best physical preservation of the original reel-to-reel tapes in the oral history collection. All reel-to-reel tapes recorded prior to 1972 were copied onto new reel-to-reel tapes. Additionally, over 900 user cassette copies were produced from the master reel-to-reel tapes.
Currently, the Oral History Program, in addition to conducting new oral history interviews, is working to create digital audio files of the most popular oral histories in the collection.