University archives
A page within Murphy Library
Special Collections actively seeks out and maintains archival materials related to UW-La Crosse. Materials in this collection include the student newspaper, photographs, yearbooks, university catalogs, various campus publications, and staff, student, and office records of a public nature.
Many historic UW-La Crosse photographs are digitized and can be viewed online here: UW Digital Collections - UW-La Crosse Historic Photographs.
The Racquet student newspaper and yearbooks, Alumnus/Lantern magazine, Catalyst, UW-La Crosse Course Catalogs, and more, are also digitized for online viewing on the Murphy Library Digital Collections webpage.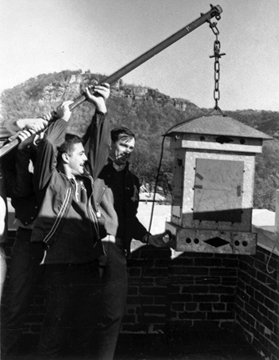 UW-La Crosse Homecoming
Hanging the homecoming lantern off Main Hall, 1967
---
In cooperation with the UW-La Crosse Oral History Program (OHP), Special Collections provides preservation storage and public accessibility for over 3,000 recorded hours of OHP interviews conducted from 1968 to the present. A small portion of OHP interviews are available online on Murphy Library Digital Collections, and additional recordings are being added each semester. Moreover, as a participating member of Recollection Wisconsin's Listening to War project, several of the collection's war-related oral histories can be found on that website. Please send any requests for copies of interviews directly to OHP.