The University of Wisconsin-La Crosse Student Association balances power between three branches: Executive, Legislative, and Judicial. Judicial authority is held by the Student Court, which is vested with the power to uphold the Student Association Constitution, interpret its meaning, and adjudicate certain disputes on campus. The Court also monitors the constitutionality of laws passed by the Student Senate and participates in student misconduct hearings. In addition, this institution acts as a liaison between students and faculty for organizational issues. If you attend UWL and have an issue - you are in the right place!
For further information on the role of the Student Court, refer to the Rules of Procedure. If you are interested in reaching out to the Court, please check out the Judicial Process Flowchart below, along with the other links.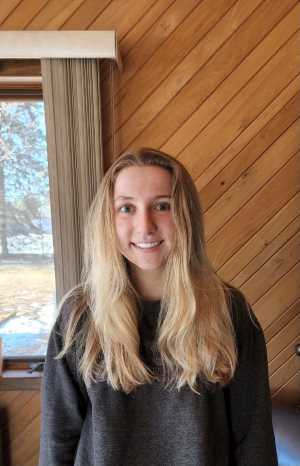 Ellie O'Brien(Chief Justice)
Ellie is a 3rd-year student studying MCEA Education with a Political Science minor. Outside of her academic activities, she is currently engaged in field experience in one of our community's local school districts. She is on a pre-law track with aspirations of working in child advocacy after graduation.
Laurel Masters
Laurel is a 4th-year majoring in Political Science and minoring in Environmental Studies. She is deeply involved in Alpha Phi and Fraternity/Sorority Life at UWL, and she looks forward to promoting respect, tolerance, and inclusivity on our campus.
Grant Mathu
Grant is a current Public Administration and Political Science major who has previously served as Student Association's State Affairs Director. Beyond his ongoing involvement with student government, he also represents the campus area as an elected member of the La Crosse County Board of Supervisors.
Hannah Riegle
Hannah - an Economics and Legal Studies student - is excited to serve on the Court in her 4th year attending UWL. She will be graduating in the spring of 2022 with intentions to attend law school. Hannah is also a competitor on our university's tennis team!
Sam Deno
Sam is in her last year at UWL, with a major in Political Science and a minor in Legal Studies. With this being her final term as a Justice, she hopes to help improve the overall effectiveness of Student Court processes going into the 2022-2023 year!
Siri Flores
Siri is a 2nd-year student who is double majoring in English (Writing and Rhetoric emphasis) and Psychology with a minor in Legal Studies. In addition to her service in Student Association, Siri currently works as a Career Services Intern and is involved with the Latin American Student Organization.