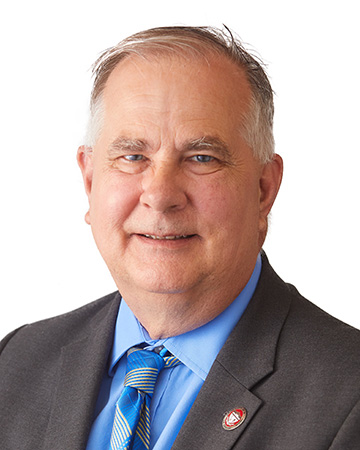 Larry's life has been pretty much dedicated to higher education. His enjoyment of student government began at UW-Eau Claire, where he earned his bachelor's degree. Several years later, he is still active in student government, through his role as Student Association Advisor at UW-La Crosse, which he greatly enjoys.
Larry's master's degree is from the University of Iowa. His first position after earning his master's degree was at Bemidji State University in northern Minnesota. He earned his doctorate from the University of Northern Colorado, and he has been at UW-La Crosse since 1985.
He really enjoys traveling and has had the good fortune to travel internationally through his positions at UWL. His family and he traveled to Melbourne, Australia, in the summer of 2001, where he spent two weeks at Monash University teaching student development to their staff. Spring break of 2006 presented another opportunity for travel as he journeyed with other faculty members, to Hong Kong, Guilin, and Nanning, China.
Although he likes to travel and appreciates the opportunities when they arise, he always enjoys coming home. He grew up in southern Wisconsin in the small town of Belleville, which is just south of Madison. Growing up in Belleville fostered his interest in gardening and spending time outdoors, which he continues to do today.
Larry is married to his wife, Ingrid, who grew up in the Minneapolis area. They have three children, all six years apart. Matt, the oldest, and just finished his doctoral program in finance at the University of North Carolina. The oldest daughter, Jessica, is in law school, and Kristin is their third child and just graduated from Central High School in La Crosse.
Larry has a deep interest in student development and always looks forward to working with the executive team and senators every year!