How to view billing detail
A page within Cashier's Office
The Fall 2023 bill has been generated.
Students will receive an email from "StudentAR@uwlax.edu" notifying them that the bill is available (email is sent at approx. 5 pm). The bill is DUE on September 25, 2023.(directions for how to view your bill shown on bottom section) .
To view charges at any time, use the method shown here. It's not necessary to wait for a bill to see the activity on your WINGS account.
Go to UW-L Student Center>Finances and change the drop down arrow to Account Activity, hit right arrow key to process.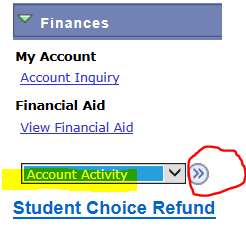 blobid0.png
To View or Pay Your Bill
Log into our electronic payment system, CASHNET, using your email address and password.
To view all your bills -- Click "View All" --



To view the detailed account statement -- Click "View" -- next to the date --



Once "View" is clicked your account statement will appear. To print your statement press Control P or right click with your mouse and select print.