Refunds from Nelnet
A page within Cashier's Office
Student refunds at UWL, either due to financial aid applied to your student account, or any other overpayment on your student account, are managed in partnership with Nelnet Business Solutions. They provide an easy, efficient, and safe way to get your refund each semester if money is due back to you.
Refunds are processed by direct deposit to any bank account of your choosing within 2-3 business days after the refund is processed. NOTE-we encourage you to set up direct deposit as a paper check can take up to TWO WEEKS and will be sent to your home address in Wings.
NOTICE to Incoming Students: This process does not cancel admission to the University. To cancel admission and request refunds for Enrollment and/or Housing Deposits, please contact the Admissions Office at 608-785-8939 or admissions@uwlax.edu.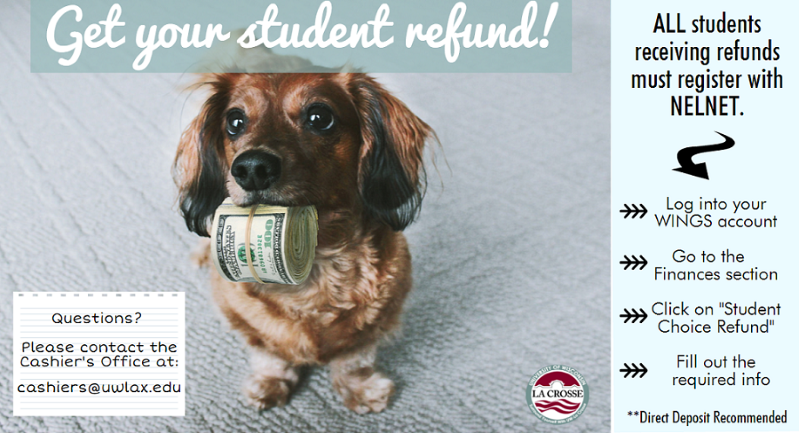 Get your student refund with NELNET!
To access NELNET refund information, please use the following steps:
First, log into WINGS using the button below
Once logged in, look for the link "Student Choice Refund" in the Finances section.
Click on the "Student Choice Refund" link and you will be sent to the student refund information page in Nelnet.
Here you will be able to set up your refund profile and enter your banking information for the account you want your funds deposited into.