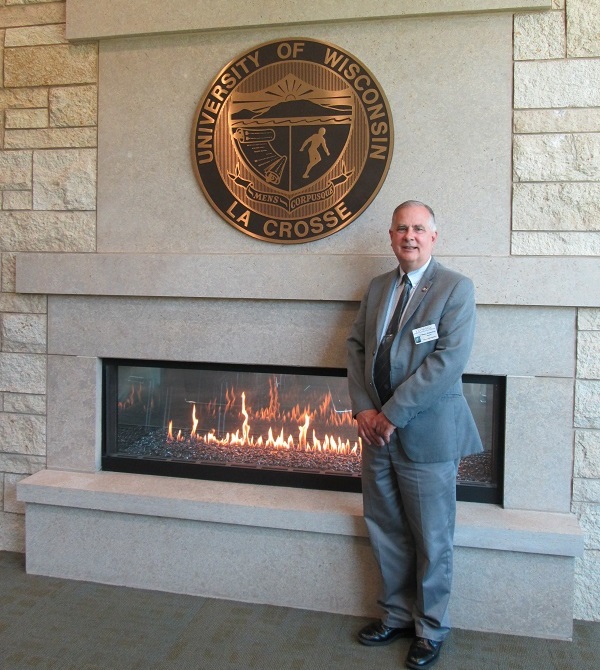 Dr. Larry Ringgenberg, Director of University Centers
A Note from Our Director
Welcome to University Centers.
Last year was an important year for UW-La Crosse and our students, as we opened the new Student Union. I do believe The U has been a hit with students and the University community. I would love to be able to tell you that the building is entirely completed, however there are still issues that we are working with the contractors on, and we are continuing to wait for some of our additional furniture. We are also waiting for the furniture for the balconies, which is very important so that everyone can begin to use these areas.
We continue to fine tune the Dining areas. This has included negotiations for another branded concept and working on possibilities for the return of Red Mango.
We will be continuing to expand programs throughout the facility. This is a year for the Distinguished Lecture Series speaker, which we hope to host in the Bluffs Room in the new facility. We would like to reenergize student involvement on campus. Our Leadership program continues to be strong, with our partnership with LeaderShape. Student Organizations continue to increase as students explore their interests. In addition, we have added one fraternity and one sorority. Student Organization information can be found at https://uwlmyorgs.collegiatelink.net.
One of our goals this year is to expand the involvement with Student Association and the Campus Activities Board. We have a very involved campus, now we need to move that involvement to include membership with these organizations and voting in campus elections.
I encourage you to explore the Student Union and the involvement opportunities at UW-La Crosse.
I want to urge you to be engaged with your classroom learning and your out-of-classroom learning.
"UC, as the center of campus life, facilitates learning and provides services and programs that foster an inclusive environment." University Centers Mission

Larry J. Ringgenberg, Ph.D.
Director, University Centers
3228 Student Union - UW-La Crosse
La Crosse, WI 54601
Telephone: (608) 785-8888