Sorority Life
A page within University Centers
Welcome to Sorority Life at UWL!
As members of the women's sororities on campus, we challenge our members to live our values every day. Innovation, alongside our core values of friendship, leadership, service, knowledge, integrity and community are what guides us not only be excellent students, but also experienced professionals and caring community members.

A digital drawing of three women wearing sorority letters, with the caption "go greek"
How to Get Involved in Sorority Life
Thank you for your interest in Sorority Life at UWL! Sorority membership offers fun, friendship, personal growth, professional networking, service opportunities, and, above all, a great connection to the rest of campus! Joining a sorority is connecting to a community of strong, independent women who strive to achieve their best by advancing the sorority experience together.
If you are interested in getting involved in Sorority Life, please reach out to Panhellenic President Lilly Garrett garrett2886@uwlax.edu and Panhellenic Recruitment VP Sydney Gergen gergen2325@uwlax.edu.
Formal Recruitment
Sorority formal recruitment is hosted by the Panhellenic Council in the fall and is a great way to meet women from all three chapters on campus. Formal recruitment will be held each evening Sept. 18 - 22, 2023.
Formal Recruitment is divided up into 'rounds' that focus on different topics for each night so potential new members and sorority women can get to know each other on deeper levels. This allows everybody to find which sorority is their perfect match!
Continuous (Informal) Recruitment
All sororities engage in continuous recruitment throughout the rest of the academic year if they are not already at the maximum amount of members. This style of recruitment is designed to meet the needs of potential new members by providing more of a one on one experience. Continuous recruitment includes individual and small group meetings with members from the chapters, informal events, and informational sessions. However, there is limited spaces for membership and Continuous Recruitment is not guaranteed each semester.
Potential New Member's Bill of Rights
Potential New Member's Bill of Rights
The right to be treated as an individual
The right to be fully informed about the recruitment process
The right to ask questions and receive true and objective answer from recruitment counselors and members
The right to be treated with respect
The right to be treated as a capable and mature person without being patronized
The right to ask how and why and receive straight answers
The right to have and express opinions to recruitment counselors
The right to inviolable confidentiality when sharing information with recruitment counselors
The right to make informed choices without undue pressure from others
The right to be fully informed about NPC Unanimous Agreements implicit in the membership recruitment acceptance binding agreement (MRABA) signing process
The right to make one's own choice and decision and accept full responsibility for the results of that decision
The right to have a positive, safe, and enriching recruitment and new member experience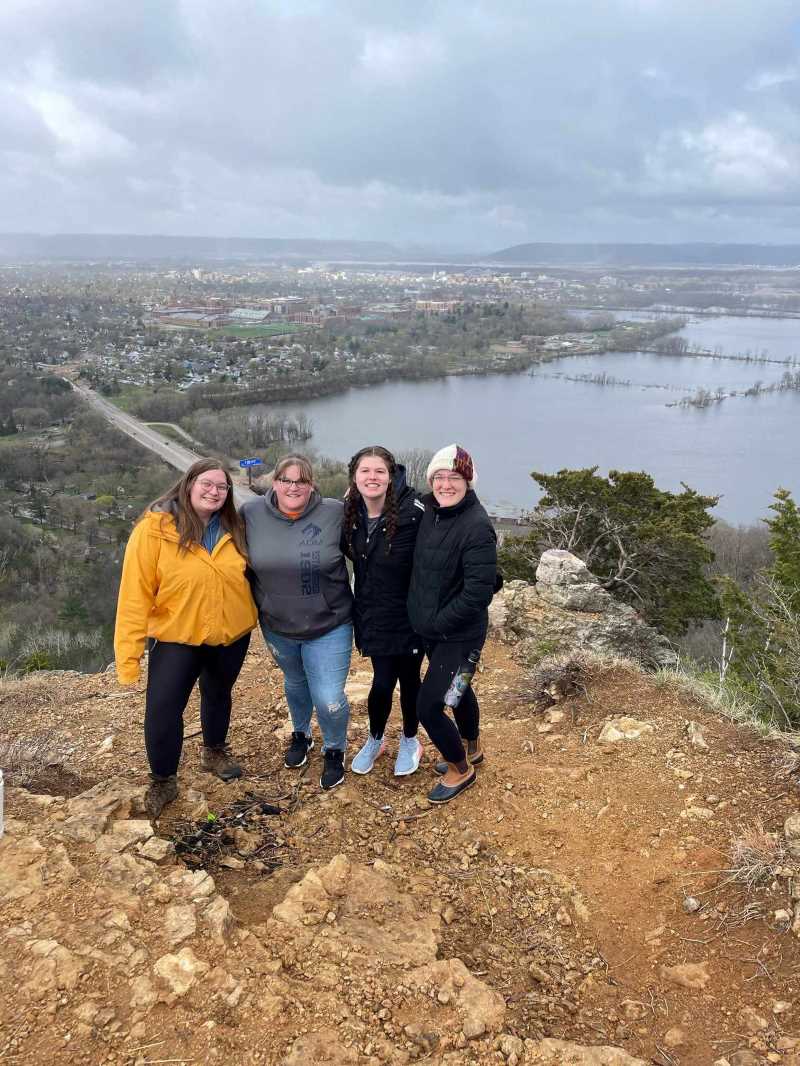 Tri Sigma Sisterhood Event At The Bluffs!
Panhellenic Council (PHC)
The National Panhellenic Council governs the 26 national sororities across the country. At UWL, the campus Panhellenic Council (PHC) is the governing body for the three women's sororities. PHC consists of six officers and two chapter delegates. Both chapters rotate officer positions annually and elect or appoint their own chapter delegates. Chapter delegates attend weekly meetings to discuss issues important to the entire community. The campus Panhellenic Council seeks to provide quality educational programs, service opportunities, and social events for member chapters. Getting involved in PHC is an excellent way to gain valuable leadership and professional experience!
The Panhellenic Creed
We, as Undergraduate members of women's fraternities, stand for good scholarship, for guarding of good health, for maintenance of fine standards, and for serving, to the best of our ability, our college community. Cooperation for furthering fraternity life, in harmony with its best possibilities, is the ideal that shall guide our fraternity activities.
We, as Fraternity Women, stand for service through the development of character inspired by the close contact and deep friendship of individual fraternity and Panhellenic life. The opportunity for wide and wise human service, through mutual respect and helpfulness, is the tenet by which we strive to live.
The Alpha Xi Delta chapter is the oldest organization on the UWL campus. We pride ourselves on our dedication to academics and to the professional development of each of our members which is reflected in one of our values, knowledge. Our remaining values: sisterhood, leadership, and service serve as guidelines for us as we navigate through our college careers. We hold various events aimed towards supporting our national philanthropic partner, Autism Speaks which promotes the understanding and acceptance of autism spectrum disorder. These events involve both the campus and community; previous events have been a 5k, volleyball tournament, and bingo event. Along with numerous volunteering opportunities, Alpha Xi Delta provides opportunities for leadership, networking, and sisterhood bonding. Sisterhood bonding has included apple orchard visits, yoga classes, hiking trips, and many other creative and fun events. Our unique sisterhood brings together those with different personalities and aspirations in order to enhance our understanding of one another and promote individuality. Our chapter's success is defined by our ability to give each member the resources needed to excel personally, professionally, and academically.
Chapter Website: http://uwlax.alphaxidelta.org/
Alpha Xi Delta women wearing their white dresses pose for a photo after their initiation.
Alpha Xi Delta women pose in their Race-themed bid day outfits.
We are Sigma Sigma Sigma (ΣΣΣ), also known as Tri Sigma! We were established at UWL in 2017, and are excited to continue positively impacting out community for many years to come. Our values are wisdom, power, faith, hope and love! We strive to live our values every day in order to be excellent citizens, community members, and sisters. Our sisterhood is for a lifetime not just for your time at UWL. To foster bonds of sisterhood we do events such as a summer retreat, planned weekly sisterhood events as well as just hanging out on our free time.
Our philanthropy follows the motto Sigma Serves Children, through a partnership between the Tri Sigma Foundation and March Of Dimes. One event we do to raise money and awareness for premature births is our annual March of Dimes Walk along with other events like Pie A Sigma Tri and Capture The Flag.
Through Tri Sigma there are many leadership opportunities, such as being on a committee, or holding an officer position. There are also opportunities to enhance your leadership abilities and connect with sisters across the country at national programming! To learn more about us, check out our chapter's website: http://uwlax.trisigma.org
Ever forward,
Tri Sigma, Theta Kappa
Four Tri Sigma women pose for a photo during their Big/Little Reveal event.
Tri Sigma women, friends and family, march to raise awareness about Sigma Serves Children Philanthropy.
We love sisterhood and have a lot of events to spend time with one another.
Some of the sisterhood events we do include: Formal, Sisterhood Retreat, events like going to the Mall of America, taking self defense classes, yoga classes, and paint nights.
Scholarship is super important to us and our education is our #1 priority. We have scholarship nights every month where we can study together and help each other with our school work.
Our Philanthropy is The Alpha Phi Foundation which raises money for Women's Heart Health which is the #1 killer for women. Events we hold to support our philanthropy are:
- Mr. Heartthrob - male beauty pageant
-Red Dress Brunch
-PhiSPN - 3v3 basketball tournament
Our main mission is to support each other and all women in our community by uplifting one another with kindness.
Our highest ideals -
1. Generosity
2. Sisterhood
3. Innovation