Welcome to Fraternity and Sorority Life!
A page within University Centers
Welcome to Fraternity and Sorority Life (FSL) at the University of Wisconsin- La Crosse! We're excited that you're interested in learning more about what our community has to offer! Our organizations are designed to help our students become better scholars and critical thinkers, to become better leaders, to help our students give back through service and philanthropic activities, and lastly, to develop a network and build relationships on campus and across the country!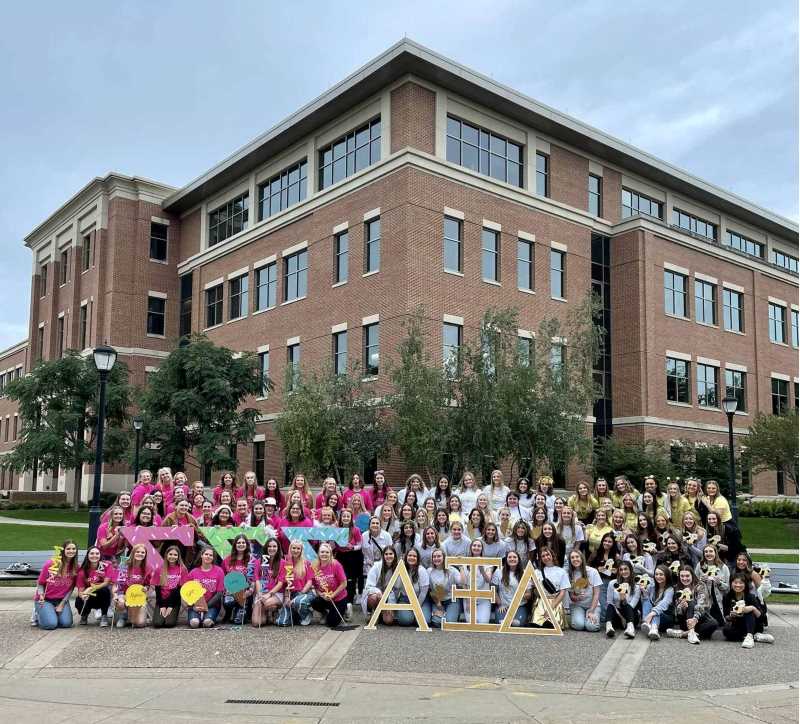 Fall Bid Day 2022
Fraternity and Sorority Life Mission Statement
The University of Wisconsin- La Crosse Fraternity and Sorority Community is rooted in the values that unite all of our organizations. We will foster and develop friendships between members and organizations, support leadership development and involvement opportunities for all members of our community, commit to meaningful service to others, and to promote and achieve academic excellence. The Fraternity and Sorority Community will work to create an environment that encourages each student to reach their fullest potential, while living their values every day. Membership in our fraternal community will provide students with the opportunity to develop skills that will benefit individuals, their organizations, the University of Wisconsin- La Crosse, and the local and global community.
Fraternity and Sorority Life Learning Outcomes
Our Fraternity and Sorority Community is guided by our learning outcomes, which are intended to positively impact the growth and development of our members, organizations, and community. These learning outcomes are designed to reflect the shared values of our organizations, University Centers, and the University of Wisconsin- La Crosse. Our Fraternity and Sorority Community is built upon four main pillars.
Four Pillars of Fraternity and Sorority Life
Scholarship
The fraternity and sorority community understands that students attend UW-La Crosse for academics first. Each chapter at UW-La Crosse has a required grade point average for members to uphold in order to be in good standing with their organization. Each chapter provides various academic support services for their members. Each chapter has an elected officer or chair in charge of overseeing their brothers or sisters academic progress and to serve as a resource to connect members to services on campus. We challenge our members to exhibit the highest levels of reasoning, critical thinking, and lifelong learning.
Leadership
Involvement in fraternity or sorority life provides members with numerous opportunities to get involved on campus and in the UWL community. Every chapter elects or appoints officers to their chapter in a variety of roles, providing opportunities for both experienced and emerging leaders. Additionally, members have the opportunity to serve on the fraternity (Interfraternity Council) and sorority (Panhellenic Council) governing boards. Fraternity and sorority members at UW-La Crosse are involved in a number of other student organizations, volunteer with several community agencies, and have individual jobs and internships.
Service
Giving back to the campus and local community is an integral part of being a fraternity and sorority member. Each chapter at UW-La Crosse is very involved with different community agencies such as the Boys and Girls Club, highway clean-up, American Cross blood drive, The March of Dimes, and more! As well as service requirements, every chapter has a National philanthropy that they strive to raise awareness and funds for. (Check out the chapter's page for information on their philanthropies.)
Friendship
Joining a fraternity or sorority provides members opportunities to make great friendships and network with members across the community. Joining a chapter provides members with a built-in support system at UW-La Crosse. The trials and tribulations members face throughout their collegiate experience with their brothers and sisters will result in friendships that last far beyond the college years.
---

We encourage you to meet with our members, get involved with what they do, ask questions, be curious about what a fraternal experience is truly about, and find the group that is the right fit for you!
Get Involved
Are you ready to jump into Greek Life at UWL?
Our sororities and fraternities are constantly looking for students with passion and drive to make our organizations great. Are you a leader, or do you want to learn how to be a leader on campus? Do you want to make friends that last a lifetime? Do you want to learn more about what Fraternity and Sorority Life can offer you as a UWL Student?
If any of this interests you, we, as members of the Greek Community, strongly encourage you to reach out to our recruitment officers to start your newest adventure at UWL.
Membership in our Fraternity and Sorority Life (FSL) Community is about much more than the few years you experience as an undergraduate member. We join these organizations for the lifelong opportunity to experience rich and fulfilling relationships, to serve the communities and causes we belong to, and to live the values espoused in our Rituals.

We aim to share and highlight to our current students that we are called to much more than just four years. If we can help support a community of engaged undergraduate leaders, we can continue to build a network of supportive alumni that will continue to invest their time and talents into the members and organizations that hold a special place in their hearts. To do this, we need your help. We hope that you stay up to date with the happenings in our community, ask questions of us, and share your success.

We hope to hear from you! Whether you have a job or internship opening that you'd like to share, you'd like more information about what's happening on campus, or would like to share a personal success, we want to know! If we can help in any way, please do not hesitate to let us know! Thanks so much for your continued involvement!