COVID-19 Update
05/03/2021
Our operational status
The Union will be open additional hours during finals week. Check out the link for the current hours.
Good luck on finals!
There is still time to plan a meeting for 10 or less people or an outdoor event. Please check out the the specifics procedures and protocols regarding these items here.
For more information: UWL's COVID-19 info hub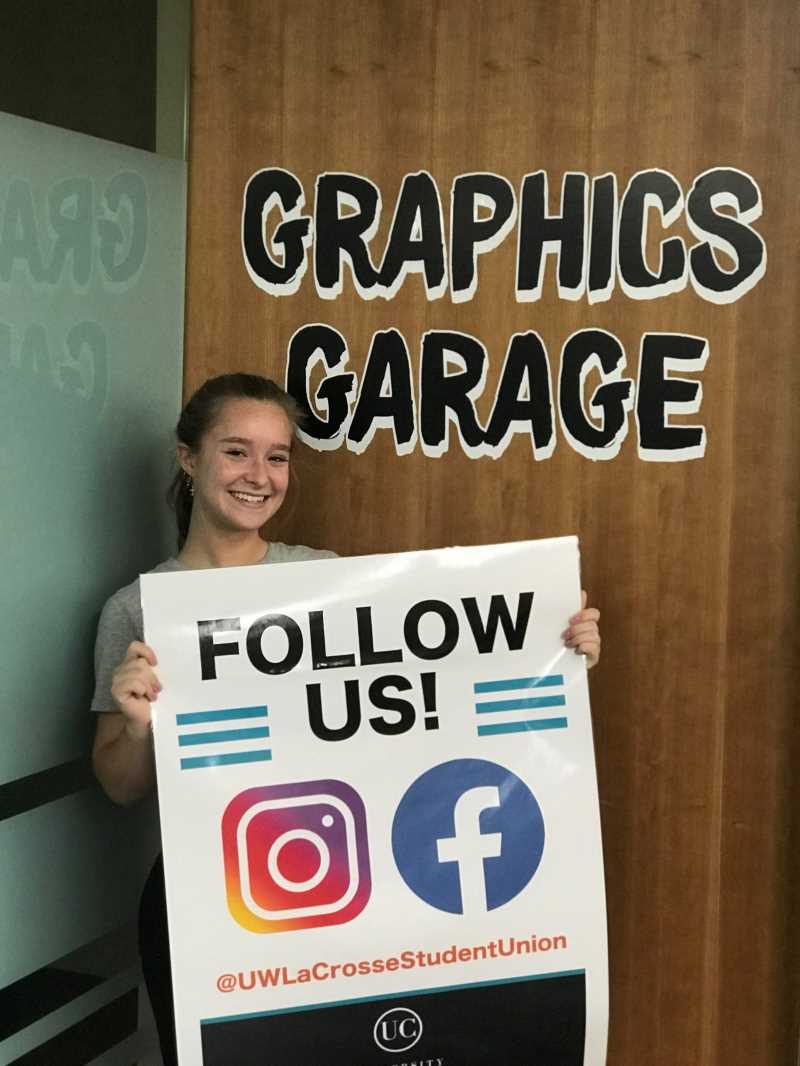 Contact COVE Graphics for your Marketing needs!
COVE Graphic Students are available to help you design your digital ideas
Location:2200 Student Union-The COVE
608-785-6488
Contact us at covegraphics@uwlax.edu.
COVE Graphics serves students and staff with high-quality, low-cost graphic design and printing services to assist groups and individuals in marketing and promotion endeavors.
Feel free to make an appointment at covegraphics@uwlax.edu if you are not able to get here when one of our designers will be working.
Please plan accordingly as we may require a minimum of 10 days to complete projects for students, staff, and faculty. No exceptions!
Payment Options for Paid Services
***Change in Policy effective 10-01-2020: **Please note we are no longer accepting cash. Please plan ahead-
Payment options include: SFO Accounts>Checks
Note: We do NOT accept credit or debit card payments
Payment is due in full when the order is complete. Projects will NOT be allowed to be picked up without payment (NO EXCEPTIONS), this includes SFO accounts.
PAID SERVICES: We are currently printing, but are no longer able to accept cash
Printing (Standard Paper):
| | |
| --- | --- |
| 8.5 X 11" One side $0.30 | Double sided $0.45 |
| 11 X 17" One side $0.45 | Double Sided $0.60 |
Printing (Cardstock & Glossy):
| | |
| --- | --- |
| 8.5 X 11" One side $0.55 | Double side $0.75 |
| 11 X 17" One side $0.85 (glossy not included) | Double sided $1.00 |
Larger Poster Printing:
| | |
| --- | --- |
| 18 X 24" Less than 1/2 ink $3.00 | More than 1/2 ink $5.00 |
| 24 X 34" Less than 1/2 ink $4.00 | More than 1/2 ink $6.00 |
Banners:
24" X any length up to 5' Pricing based on size and amount of ink used
Buttons:
Lamination:
First Foot $1.90 Each foot after $0.90