Finals Week Schedule:

| | | | |
| --- | --- | --- | --- |
| DECEMBER | Thursday ( 12th ) | Friday (12th ) | Monday (16th) |
| Noon | HITT | Cycle & HITT | Yoga |
| 4pm | Cycle | | |
| 5pm | Cycle | | Cycle |
| 5:30pm | Yoga | | |
| 6:30pm | Group Strength | | |
Group fitness classes are a great way for people of all fitness levels to get an effective and fun workout. The group atmosphere provides motivation and encouragement to work harder and get the most out of your workout.

$40 Semester Unlimited Membership (14 weeks/$2.85 per week )

$15 New Monthly Unlimited Membership (4 weeks/$3.75 per week)

Membership fees can now be placed on your student bill. Register at the REC info counter take advantage of this service.

*Please note there are no refunds for the unlimited group fitness membership
Receive unlimited access to every class offered.
Choose from over 45 classes per week (cardio, cycling, strength training, dance, LaXFit (new) ) with the Unlimited Group Fitness Membership.

Daily Drop In - $3 per class, availability dependent on class size, purchase pass at REC front desk

If you have any questions, please contact Nick Berg at nberg@uwlax.edu.
MON
TUE
WED
THR
FRI
6:30am
Yoga
Yoga
7:30am
8:45 am
7:45am
Cycle / Core
Cycle / Core
Cycle / Core
Cycle / Core
12:05pm
Insanity
(35 min)
Tabata(35 min)
Cardio Sculpt Fusion
12:15pm
Cycle / Core
2:15pm
Cardio kickbox
Cardio kickbox
3:30pm
New Kettelbell Conditioning
New Barre, Bells & Body Sculpting
New Kettelbell Conditioning
New Barre, Bells & Body Sculpting
HIIT Full Body Workout
4:00pm
Cycle / Core
Cycle / Core
Cycle / Core
Cycle / Core
4:30pm
Power Yoga
Zumba
Power Yoga
5:00pm
Cycle / Core
Cycle / Core
Cycle / Core
Cycle / Core
5:30pm
Beginning Yoga
Pilates
Beginning Yoga
Pilates
6:00pm
Cycle & Core
Cycle / Core
Cycle & Core
Cycle / Core
6:30pm
Strength & Tone
Insanity
Strength & Tone
Insanity
7:30pm
Zumba & Core
Yoga & Abs
Zumba & Core
Yoga & Abs
Class Descriptions
Barre' Bells and Body Sculpting
Fusing together today's most popular workouts Barre, Sculpting and Kettlebells. Selecting the best of the best exercises and utilizing all the equipment…Barre, Balls, Kettlebells, Bands and hand held weights helping you develop a sleek toned physique.
Beginning Yoga
Discover yoga at a beginner's pace. This introductory class will teach you the basic foundations of yoga, building strength stamina and flexibility. Chill out and decompress from your busy day.
Cardio Kickbox
Jab, punch & kick your way into a tight strong body to pulsing beats! Instructors will coach you on as you train hard and get results!
Cycling
Not into dance based workouts? Then this workout is for you! Motivating instructors will coach you through a ride that includes climbs, hills, & sprints. This class is for all levels.
Cycle & Core
An intense ride that includes flats, hills and sprints followed by a sculpting ab workout.
Insanity®
This life changing, incredible body fitness workout is the number one workout in the planet! A mixture of high intensity athletic drills and total body conditioning exercises that get you fast results.
Kettlebell Conditioning
This dynamic total body conditioning Kettlebell workout will target and tone your muscles and rev up your metabolism. Challenging? Yes! But oh so worth it!
LaxFit Small Group Training
Love small group fitness classes? The LaXFit is for you! This class is held on the Fitness Center turf and maxes out a 10 participants so our instructors are better able to assist you. LaXFit blends personal training and group fitness to provide a safe, motivating and highly effective environment for strength and circuit style training.
LaxFit Large Group Training
This is all-encompassing, high-energy strength and conditioning workout utilizes free weights, plyometrics, medicine balls and agility work. It will leave your metabolism and muscles burning long after the workout have ended. No tricky choreography! Just results!
Pilates
Pilates focuses on core strength while you tighten and tone your whole body. Traditional Pilates with a mix of total body strengthening exercises improves your posture, creates muscle balance, and improves your range of motion.
Power Yoga
An energetic vinyasa flow class that heats you up from the inside out! Dynamic sun salutations interwoven with poses to improve your strength, stamina and flexibility. Peel back the layers of stress and make that mind, body, spirit connection.
Strength & Tone
Develop long lean muscles and strong core by attending this class that incorporates handheld weights, resistance bands and core strengthening exercises.
Tabata®
A high intensity interval workout that incorporates 20 seconds of high intensity microburst exercises followed by 10 seconds of rest. This high intensity interval training is a total body conditioning workout that scorches calories and can burn 5X more calories post workout giving you results.
Yoga
Stressed out? Want to improve overall body strength? Need help with flexibility? Are you anxious or feeling not yourself? This mind, body, & soul class will help reduce stress, improve strength, flexibility, posture, reduce anxiety and so much more! Sun salutations, breathing work and poses, yoga is for everyone. Whether you're an athlete, recovering from an injury or just want to get healthier, yoga can help.
Yoga Flow
End your busy day with this flowful yoga class that will improve your flexibility, strength, and posture while helping you decompress from your stressful day.
Zumba®
Zumba® is a fusion of Latin and International music - dance themes that create a dynamic, exciting, effective fitness system! The routines feature aerobic/fitness interval training with a combination of fast and slow rhythms that tone and sculpt the body. Zumba® utilizes the principles of fitness interval training and resistance training to maximize caloric output, fat burning and total body toning. It is a mixture of body sculpting movements with easy to follow dance steps.
Zumba® & Core
Groove & sweat to pulsing Latin beats followed by sizzling abs!
Start your Personal Training journey
Get involved with our new Programs
Step 1. Inquire at the personal training room or complete this short form.
Step 2. Our Fitness Coordinator will reach out to answer any questions you have and set up a time for a free 1 on 1 consultation
Step 3. We will match you with a package, trainer, and program to meet your needs
Step 4. Train
Personal Trainers help you achieve your fitness goals...

TYPES OF PERSONAL TRAINING
1 on 1 Training
This format provides the most individualized attention and customization one can get. Whether you're looking to get stronger, faster or slimmer we will match you with a trainer who possesses the experience to help you reach your goals and is available to train when you need them. Through assessments, your program will be custom designed and implemented using sound training principles. You're in this together, our trainers will not only help motivate you but will also share their knowledge teach you skills that will build technical efficiency and confidence.
1 on 2 Training
This format allows for workout partners to work side by side with a trainer. Partner training has all the benefits of 1 on 1 but your individual needs will be addressed through a combined training program. This format is a fun and motivating way to reach your goals at an affordable rate.
Lax Fit small group training
These up-tempo total body circuits are run by our trainers throughout the day and utilize a plethora of turf equipment to give you the best workout you can pack into 45 minutes. Using functional multi-joint exercises and metabolic circuits we guarantee your metabolism and muscles will burn long after the session has ended. Sessions allow for 3-5 in a group. You can either drop in or sign up with friends. This is our most affordable and time-effective option.
PRICING
| | |
| --- | --- |
| One-on-One Training | |
| | |
| 8 sessions | $112 ($14/session) |
| 12 sessions | $156 ($13/session) |
| 24 sessions | $300 ($12.5/session) |
| | |
| Partner Training | |
| | |
| 8 sessions | $64 ($8/session) |
| 12 sessions | $84 ($7/session) |
| 24 sessions | $156 ($6.5/session) |
| | |
| Group Training (3-5 people) | |
| | |
| 8 sessions | $30 ($3.75/session) |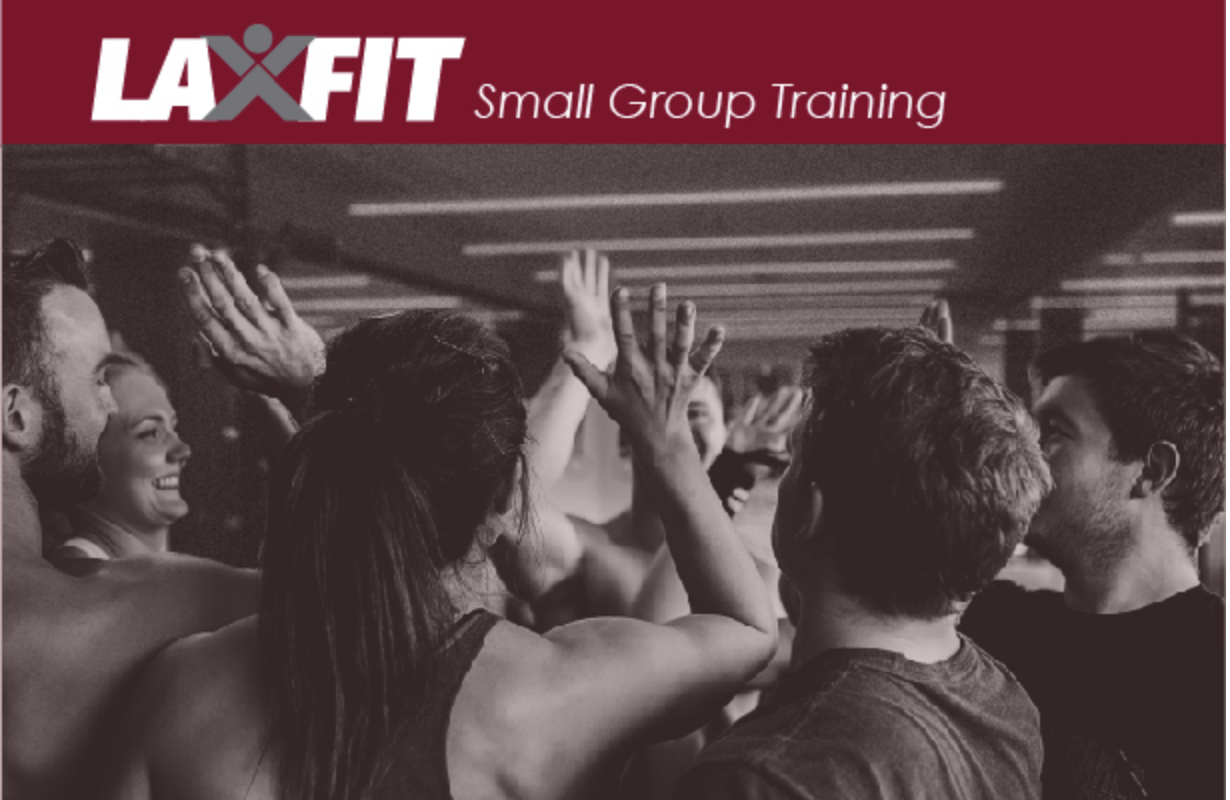 LaXFit workouts are up tempo total body circuits run by UWL Rec Sports trainers. Each workout is limited to 5 people and will take full advantage of the new turf and equipment to provide the best workout you can pack into 45 minutes.
Using functional multi-joint exercises and metabolic circuits, we guarantee your metabolism and muscles will burn long after the workout has ended.