Now Hiring
A page within Rec Sports
REC
Recreational Eagle Center (REC) Hours
Monday - Friday: 6am-11pm
Saturday: 10am-10pm
Sunday: 11am-10pm
Contact Us
608.785.5225
recoffice@uwlax.edu
OC
Outdoor Connection (OC) Hours
Monday - Friday: Noon - 6pm
Saturday: 10am - 6pm
Sunday: 11am - 6pm
Contact Us
608.785.8860
outdoorcnt@uwlax.edu
FC
Fitness Center Hours
Monday - Friday: 6am-10pm
Saturday: 10am-9pm
Sunday: 11am-9pm
Contact Us
608.785.5210
recoffice@uwlax.edu
Wall
Climbing Wall Hours
Monday - Friday: 5pm - 9pm
Saturday: 3pm-6pm
Sunday: 5pm-8pm
Contact Us
608.785.5225
recoffice@uwlax.edu
EZONE
EZONE Esports & Gaming Hours
Monday - Friday: 3pm-11pm
Saturday & Sunday: Noon - 10pm
Contact Us
608.785.8921
recsportsesports@uwlax.edu
Pool
Mitchell Hall Pool Hours
Monday: 12pm-12:50pm, 8pm-10:30pm
Tuesday: 8pm-10:30pm
Wednesday: 12pm-12:50pm, 8pm-10:30pm
Thursday: 8pm-10:30pm
Friday: 12pm-12:50pm, 7pm-9pm
Saturday: 12pm-3pm
Sunday: 1pm-4pm
The pool will be closed tonight (12/6) for lap swim.
Contact Us
608.785.8698
recoffice@uwlax.edu
Fieldhouse
New Fieldhouse
Access to the New Fieldhouse during open rec hours is restricted to those who have a current REC membership (student, faculty/staff, alumni).
Open Rec Hours
Sunday: 6pm-10pm
Second Floor Track Hours
Managed by the Athletic Department
Monday-Friday: 11am-1pm
Contact Us
608.785.5225
recoffice@uwlax.edu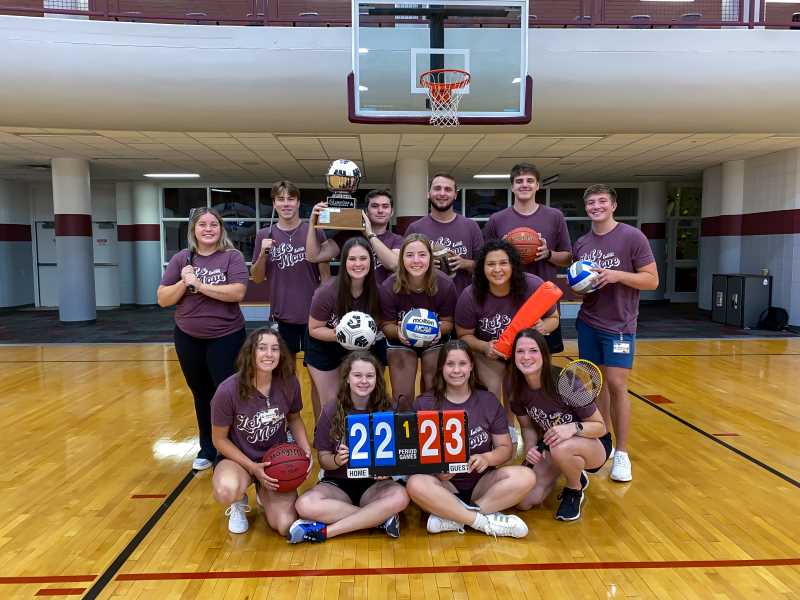 Rec Sports Student Staff
Recreational Sports is one of the largest employers on campus. Every day we work as a team to practice customer service, problem-solving, critical thinking, and other skills that you can talk about in an interview with a future employer. Rec Sports employment provides opportunities to learn, make new friends, and get paid in an environment that is positive, supportive, and fun! Benefits of working for Rec Sports includes:
Skill development
Real-world work experiences
Flexible work schedules
Leadership opportunities
Professional development opportunities
Rec Sports Department is a learning laboratory where students have the opportunity to compliment academic pursuits with quality hands-on work experience and on-the-job training. Students have the opportunity to develop their Eagle Advantage competencies:
Adaptability

Collaboration & Leadership

Communication

Critical Thinking & Problem Solving

Digital Literacy & Technology

Diversity, Equity, & Inclusion

Accountability

Career & Self-Development
Learn about what it's like to work for Rec Sports...
Interested in working with Rec Sports? We are currently taking applications/interest forms for the following positions:
CURRENT OPENINGS FOR IMMEDIATE HIRE
Bike Mechanic
Application
Contact: Jake Sciammas
Application Deadline: Until Filled
Must be experienced in bike maintenance & repair!
Group Fitness Instructors & Personal Trainers
Application/Interest Form
Contact: Nick Berg
Application Deadline: Ongoing
Specifically looking for cycle, yoga, Zumba and strength/HIIT style instructors
HIRING FOR Fall 2024
Check back in January for more information.
SPRING INTERNSHIP
The Rec Sports internship program is a 16-week experience. 30 unpaid hours per week will meet the UWL REC 450 undergraduate internship requirement. In addition, Rec Sports interns must also work 10 paid hours per week as a student employee.
For the paid work, interns will be able to work up to two positions within Rec Sports, working normal shifts.
Unpaid Internship Hours Job Duties
Serve as the day Building Manager

Assist with marketing and engagement initiatives

Assist with planning special events, including but not limited to, the UWL Student Affairs Golf Outing and the Rec Sports Turkey Trot

Assist in managing the Sport Club budgets

Assist with Rec Sports Giving Day initiatives (fall only)

Attend and participate in various Rec Sports committees

Assist with the Rec Sports student employee hiring process

Data collection/analysis & benchmarking projects as assigned
Applications due Tuesday, January 2nd. Position starts Tuesday, 1/16.
Most service staff members must:
Complete and pass a criminal background check per UWL requirements.
Be certified in Adult & Pediatric First Aid, CPR & AED prior to their first scheduled shift.

The certification will be made available to Rec Sports student employees at a discounted rate of $25.