GET THE NEW APPLICATION GUIDE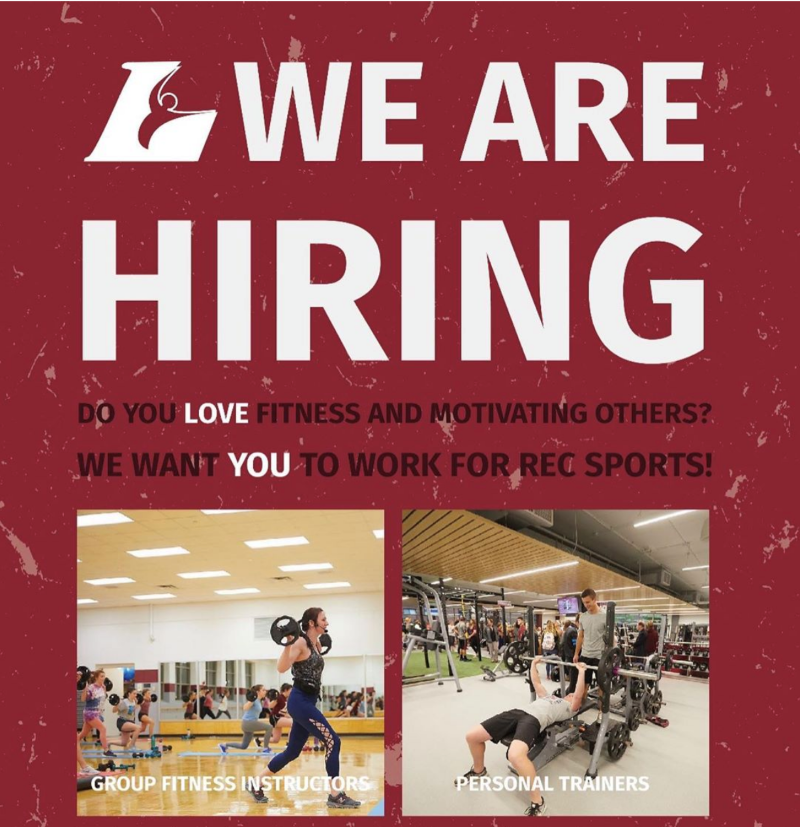 FALL 2020
We are currently hiring personal trainers and group fitness instructors. For additional information, please complete this interest form. For questions, contact Nick Berg, nberg@uwlax.edu.
Additional information will be available later this summer regarding lifeguards and intramural sports officials. For questions, please contact Mo McAlpine at mmcalpine@uwlax.edu.
SERVICE STAFF
All service staff positions listed below have been hired for 2020-2021.
Bike Mechanic
Building Manager
Climbing Wall Supervisor
Customer Service Representative
Fitness Center Supervisor
Graphic Designer
Intramural Sports Supervisor
Outdoor Connection Representative & Trip Leader
Personal Trainer
Sport Club and Event Supervisor
ACTIVITY STAFF
Information regarding activity staff positions for 2020-2021 will be available later this summer. These positions include intramural sports officials, lifeguards and group fitness instructors. To learn more about applying for these positions, please see below.
INTRAMURAL SPORTS OFFICIALS
Intramural Sports Officials are provided a quality hands-on experience both on and off the court/field while developing skills in conflict resolution, team building, time management, communication, and leadership in a fun and exciting atmosphere with flexible hours. Officiated intramural sports include basketball, big base (kickball), flag football, floor hockey, futsal, goalball, softball, trenchball, volleyball, and Wiffle ball.
For additional information regarding intramural sports officials, please contact:
Ali Tackett, Competitive Sports Coordinator
142 Recreational Eagle Center
atackett@uwlax.edu
608.785.5221
LIFEGUARDS

Information regarding lifeguard positions for 2020-2021 will be available later this summer. Guards are hired each Fall semester to cover adult lap swimming in the Mitchell Hall indoor pool. All interested lifeguards must be currently certified prior to employment. To apply, follow the steps during the application period (start of each fall semester):
complete one online application by noon on the first Thursday of the fall semester

submit verification of current certifications (lifeguard training, first aid, CPR Pro and AED) to the Rec Sports Office e-mail account at recoffice@uwlax.edu by noon on the first Thursday of the fall semester

attend hiring session on the first Thursday of the fall semester at 8pm in the Mitchell Hall pool; come prepared to swim
All applicants are required to attend the hiring night on the first Thursday of the fall semester in the Mitchell Hall pool. Come prepared to get into the water and perform the following tests/skills:
250 yard swim
deep water, submerged, unconscious save
shallow water, spinal save
deep end, active drowning save
For additional information regarding lifeguards, please contact:
GROUP FITNESS INSTRUCTORS
For information regarding group fitness instructors, please complete this
interest form
. For questions, please contact:
Nick Berg, Fitness Coordinator
Recreational Eagle Center
nberg@uwlax.edu
608.785.6533
PERSONAL TRAINERS
For information regarding personal trainers, please complete this
interest form
. For questions, please contact:
Nick Berg, Fitness Coordinator
Recreational Eagle Center
nberg@uwlax.edu
608.785.6533