Playing outside shouldn't cost an arm and leg.
Outdoor sports require expensive and specialized equipment. This can really limit the number of activities you try and if you happen to buy equipment that isn't right for you , it's a big waste of money.

You should be able to try all the outdoor sports you want and not lose your shirt in the process.
$725 the amount a group of four can spend to equip their first camping trip.*


$700 is the average amount an American outdoor enthusiast spends new gear annually.*


A new canoe can cost well over $1,000, a mountain bike $700+, snowshoes $200, tents $250, and a sleeping bag $150.

* Based on outdoor participation research by Outdoor Industry, 2018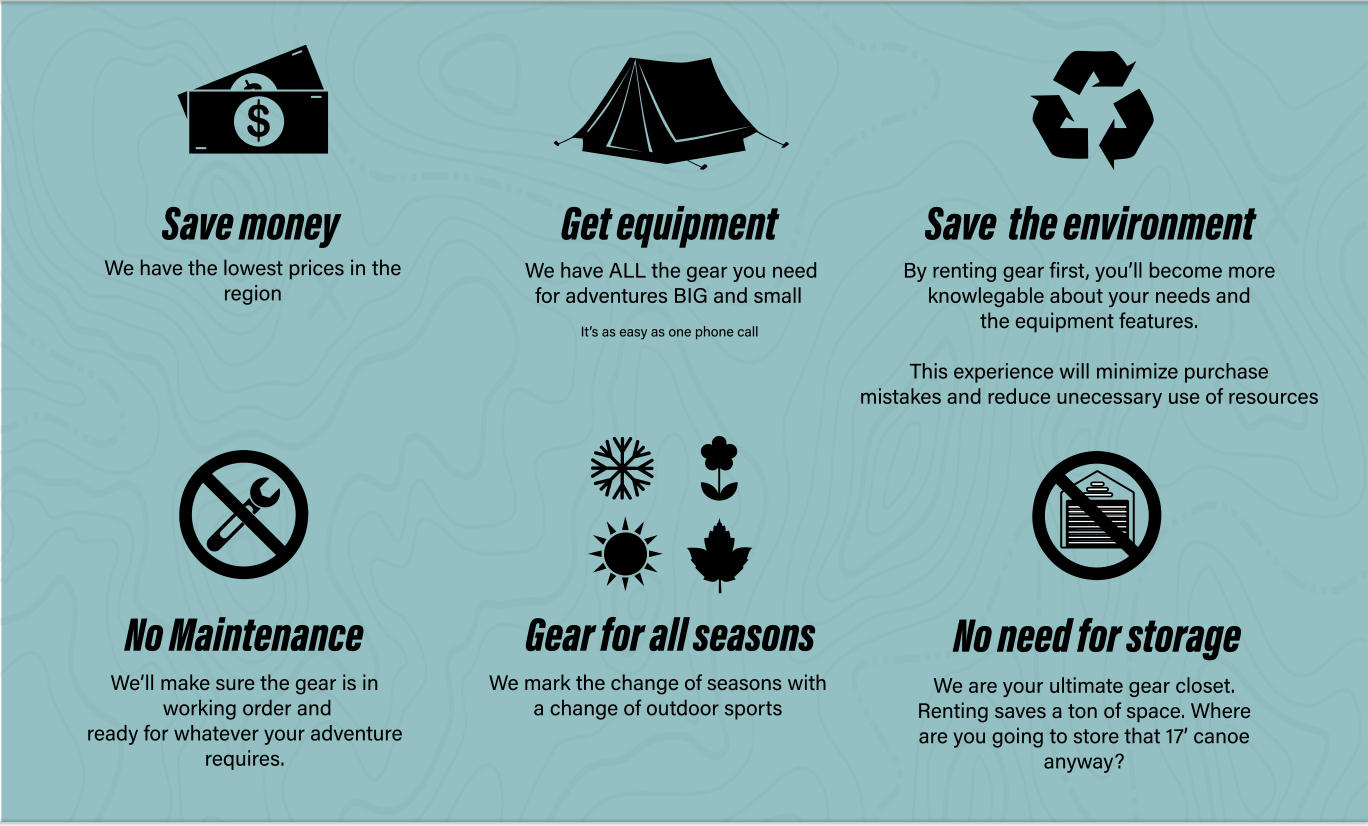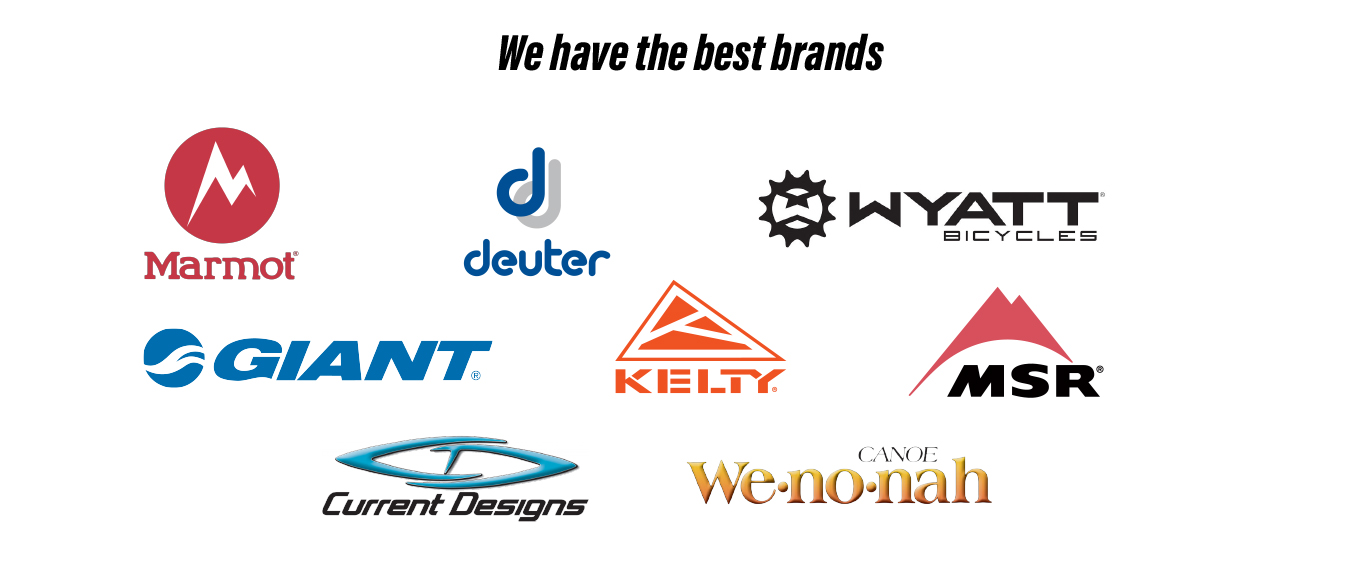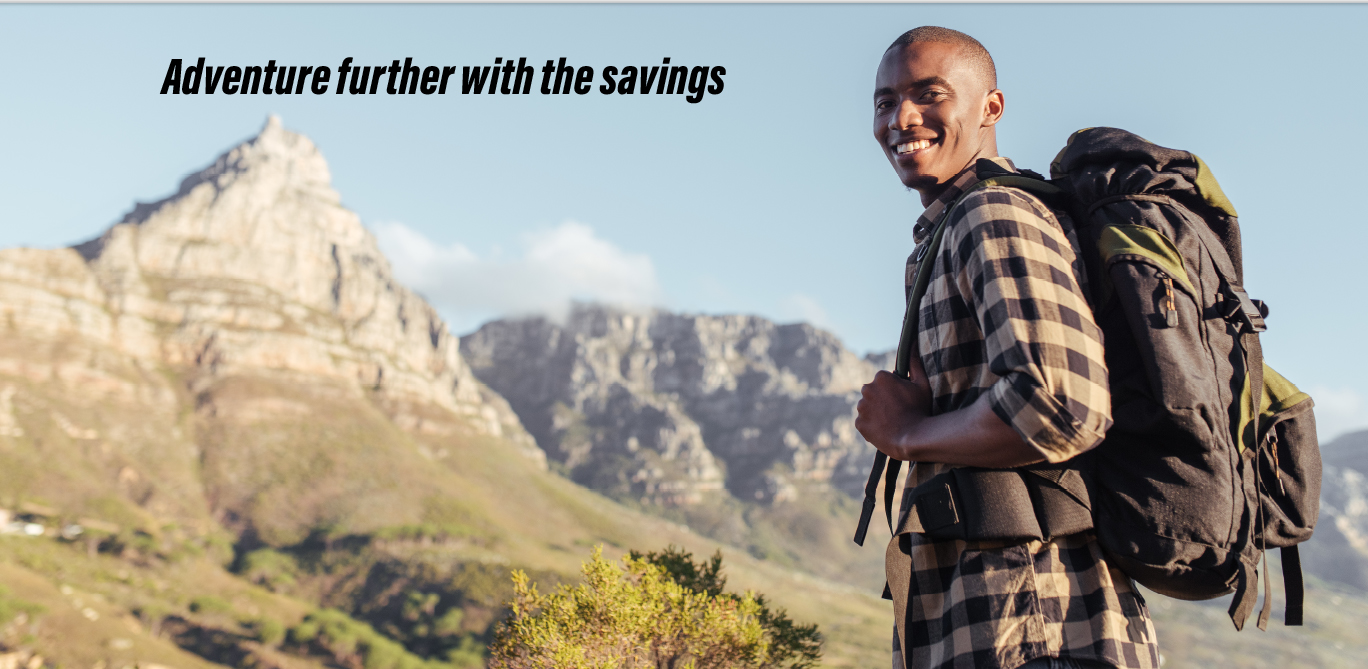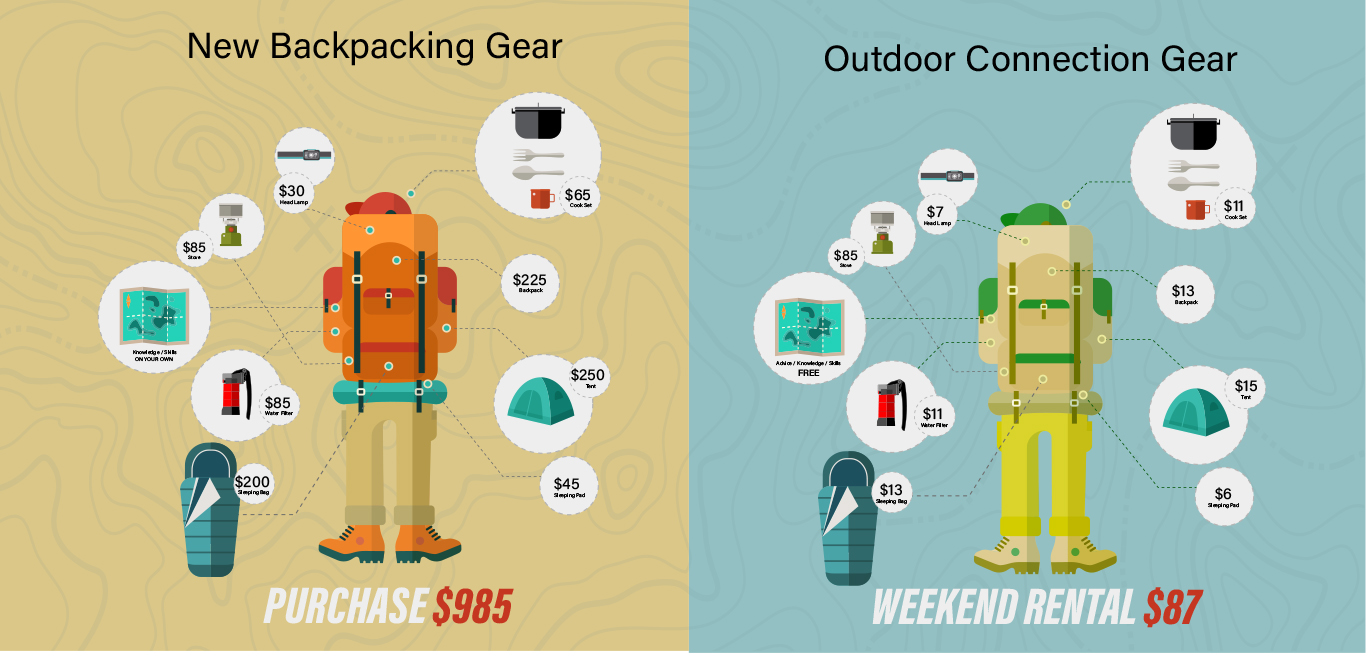 Rentals temporarily suspended
RESERVE GEAR Give us call: 608.785.8860 or email your request to outdoorcnt@uwlax.edu
The Outdoor Connection Equipment Rental Center has everything you'll need to experience year round outdoor adventures big and small.
Our outdoor rental center is located in the Recreational Eagle Center on UWL's campus, 1601 Farwell St.
Services
Outdoor Equipment Rental
Outdoor Resource Library: maps, guide books, instruction and periodicals
Outdoor Equipment purchasing advice
Outdoor Trips and Clinics
Outdoor skills training
Lectures and Seminars
Green Bike Rental Program
The Outdoor Connection rents gear to the students, faculty, staff and the general public.
How To Rent -
Before you visit make sure you bring a valid drivers license. When you arrive at the Outdoor Connection our friendly staff will take down your information, what type of equipment you are wanting to rent, and for how long you wish to rent it. Full payment is required to reserve equipment from the OC. Large group rentals (5 or more of one item) will be required to pay a deposit equal to 50% of the total price.
Parking
Parking is a premium on UWL's campus and the parking lots are regularly patrolled by University Police. We have two parking options for customers renting, reserving or picking up gear. 1) Guest parking is available in the lot across from the REC (C7) Parking is not free. Please use the pay stations to pay for parking. 2) Park near the Outdoor Connection boat and trailer storage area.
INFLATABLE PADDLE BOARD 10'6" Package

UWL Day

Public Day

Each Additional
Day
$16
$25
$12

NRS stand up paddle board
SOLID PADDLE BOARD
BIC ACE TEC

10'6" and 11'6" Stand Up Paddle Board Basic Package

UWL Day

Public Day

Each Additional
Day
$16
$25
$12

Bic Paddle Board 10_6

BIC SUP11_6
(3) 10' 6" - Holds up to 200 lbs (4) 11'6" - Holds up to 260 lbs
| | | | |
| --- | --- | --- | --- |
| TOURING PADDLE BOARD | UWL Day | Public Day | Each Additional Day |
| BIC ACE TEC WING 12'6" Touring Stand Up Paddle Board Premium Package | $16 | $25 | $12 |

Ace Tec Wing photo
(4) 12'6", - holds up to 260 lbs
CANOE
UWL Day
Public Day
Each additional day
Canoe Rental Packages
$20
$30
$15

Available Inventory: 10 Wenonah Royalex boats, ( Sprit II , Prospector ),

Wenonah Royalex

KAYAK


Kayak Rental Packages
$12
$18
$8

(8) Current Designs Kestral 120 - 12' long

Kestrel 120

Touring: (4) Current Designs Kestral 140 - Rotomold 13' 6" long

Kestrel 140

(2) Current Designs Whistler 14'6'

Whistler

(1) 14' Perception Carolina

Carolina 14
Canoe/Kayak Transportation
UWL Day
Public Day
Each additional day
8-Canoe Trailer (2" hitch)
$40
$59
$11
6-Canoe Trailer (2" hitch)
$40
$59
$11
Car-top carriers
$2
$4
$1

Paddling Accessories
Dry Bags
$2
$4
$1
Crazy Creek Chair
$3
$5
$1
Paddle
$2
$4
$1
Life Jacket
$1
$3
$1
General public must use a credit card to rent canoes or kayaks
PREMIUM MOUNTAIN BIKE

UWL Day
Public Day
Each additional day
$25
$30
$12


FAT BIKES

UWL Day
Public Day
Each additional day
Wyatt 1x10
$18
$25
$10
MOUNTAIN BIKE

UWL Day
Public Day
Each additional day
Giant Talon 2
Tempt 3 xs frame
$15
$20
$7
CRUISER BIKE
UWL Day
Public Day
Each additional day
Giant Simple 3
$9
$13
$5


IN-LINE SKATE

$6
$9
$3
Blade/Bike Safety Gear
$2
$4
$1

Bike Rack - 3 bike

$6
$9
$4
Bike Rack - 5 bike
$6
$9
$4
| | | | |
| --- | --- | --- | --- |
| Camping | UWL Day | Public Day | Each Additional Day |
| 2 or 3 Person Tent | $6 | $10 | $5 |
| 4 & 6-Person Tent | $10 | $15 | $5 |
| Hammock - Single Nest | $5 | $8 | $3 |
| Hammock - Double Nest | $5 | $8 | $3 |
| Sleeping Bag | $6 | $9 | $4 |
| Sleeping Pad | $3 | $4 | $2 |
| Headlamp | $2 | $5 | $2 |
| Water Purifier | $6 | $8 | $3 |
| Backpack | $6 | $9 | $4 |
| 2 Burner Base Camp Stove | $5 | $8 | $3 |
| 4 Person cook set | $6 | $8 | $3 |
| 4 Person kitchen set | $2 | $3 | $1 |
| Cooler -Large Expedition | $8 | $12 | $5 |
| Cooler -Small / Medium | $2 | $3 | $1 |
| Polyethylene tarp | $1 | $2 | $1 |
| | | | |
| --- | --- | --- | --- |
| Picnic items | UWL Day | Public Day | Each Additional Day |
| | | | |
| Bocci Ball | $4 | $6 | $2 |
| Frisbee Golf Disc Catchers | $2 | $4 | $2 |
| | | | |
Tent information

2-person tents
Kelty Outfitter Pro 2

Seasons: 3
Number of doors: 2
Number of vestibules: 2
Capacity: 2
Number of poles: 2


Dimensions:

Minimum weight: 6 lbs 6 oz / 2.89 kg

Packaged weight: 6 lbs 14 oz / 3.12 kg

Floor area: 35 ft2 / 3.25 m2

Vestibule area: 10 ft2 + 10 ft2 / 0.9 m2 + 0.9 m2

Length: 89 in / 226 cm

Width: 57 in / 145 cm

Height: 43 in / 109 cm





Packed diameter: 8 in / 20 cm

Packed Length: 23 in / 58 cm

Pole type: DAC Pressfit

Wall material: 75D Polyester, 40D Mesh

Floor material: 210D Nylon, 3000 mm

3-person tents
Kelty Outfitter Pro




Seasons: 3

Number of doors: 2

Number of vestibules: 2

Capacity: 3

Number of poles: 2

Dimensions:

Minimum weight: 7 lbs 5 oz / 3.32 kg

Packaged weight: 7 lbs 14 oz / 3.57 kg

Floor area: 46 ft2 / 4.28 m2

Vestibule area: 10 ft2 + 10 ft2 / 0.9 m2 + 0.9 m2

Length: 88 in / 224 cm

Width: 75 in / 191 cm

Height: 49 in / 124 cm




Packed diameter: 8 in / 20 cm

Packed Length: 24 in / 61 cm
Pole type: DAC Pressfit

Wall material: 75D Polyester, 40D Mesh

Floor material: 210D Nylon, 3000 mm

Fly material: 75D polyester, 1800 mm

4-person tents
Kelty Outfitter Pro


Seasons: 3
Number of doors: 2
Number of vestibules: 2
Capacity: 4
Number of poles: 2



Dimensions:

Minimum weight: 7 lbs 8 oz / 3.4 kg

Packaged weight: 8 lbs 1 oz / 3.66 kg

Floor area: 60 ft2 / 5.58 m2

Length: 87 in / 221 cm

Width: 99 in / 251 cm

Height: 52 in / 132 cm





Packed diameter: 8 in / 20 cm

Packed Length: 25 in / 64 cm

Pole type:

DAC Pressfit

Wall material:

75D Polyester, 40D Mesh

Floor material:

210D Nylon, 3000 mm

Fly material:

75D polyester, 1800 mm

6-person tents
Eureka Timberline Outfitter 6
Floor Size 8'6" x 10'3"
Pack Size 8" x 30"
Min Weight 18 lbs. 8 oz.
Seasons 4
Tent Area 87 sq. ft.
Center Height 6' 3"
Sleeps 6





Kelty
Outback 6

Seasons: 3
Number of doors: 1
Number of vestibules: 1

Capacity: 6

Minimum weight: 13 lb 12 oz / 6.2 kg

Packaged weight: 15 lb 3 oz / 6.9 kg

Floor area: 87 ft2 / 8.1 m2

Vestibule area: 22 ft2 / 2 m2

Length: 118 in / 300 cm

Width: 106 in / 269 cm

Height: 76 in / 193 cm

Packed diameter: 8 in / 20 cm

Packed Length: 27 in / 69 cm


Number of poles: 2

Pole type: Fiberglass

Wall material: No-See-Um Mesh

Floor material: 68D Polyester, 1800 mm

Fly material: 68D Polyester, 1800 mm
Backpack Info -


Deuter Brand

ACT Lite 45 + 10 SL

Weight:
3 lbs 4 oz
xxx g

Volume:
2750 + 610 cubic inches
45 + 10 litre

Size:
29 / 11 / 9.4 (H x W x D) Inch
74 / 28 / 24 (H x W x D) cm

Material:
Deuter-Microrip-Nylon
Deuter-Duratex-Lite
Deuter-Ripstop 210

Aircontact 60 + 10 SL

Weight:
5 lbs 15 oz
2690 g

Volume:
3660 + 610 cubic inches
60 + 10 litre

Size:
33 / 15 / 11 (H x W x D) Inch
83 / 37 / 27 (H x W x D) cm

Material:
Deuter-Duratex

Aircontact 65 + 10

Weight:
6 lbs 0 oz
2710 g

Volume:
3970 + 610 cubic inches
65 + 10 litre

Size:
33 / 16 / 11 (H x W x D) Inch
84 / 40 / 28 (H x W x D) cm

Material:
Deuter-Duratex

Aircontact 70 + 10 SL

Weight:
6 lbs 5 oz
2860 g

Volume:
4270 + 610 cubic inches
70 + 10 litre

Size:
34 / 16 / 11 (H x W x D) Inch
86 / 40 / 29 (H x W x D) cm

Material:
Deuter-Duratex
| | | | |
| --- | --- | --- | --- |
| Winter Gear | UWL Day | Public Day | Each Additional Day |
| Cross Country Skis | $8 | $12 | $5 |
| Snowshoes | $8 | $12 | $5 |
| Airboard | $5 | $8 | $3 |
| Hiking Crampon | $3 | $4 | $2 |
| Sled | $2 | $3 | $1 |
| Toboggan | $2 | $3 | $1 |
| Ice Skates | $2 | $3 | $1 |