Biology
A page within Murphy Learning Center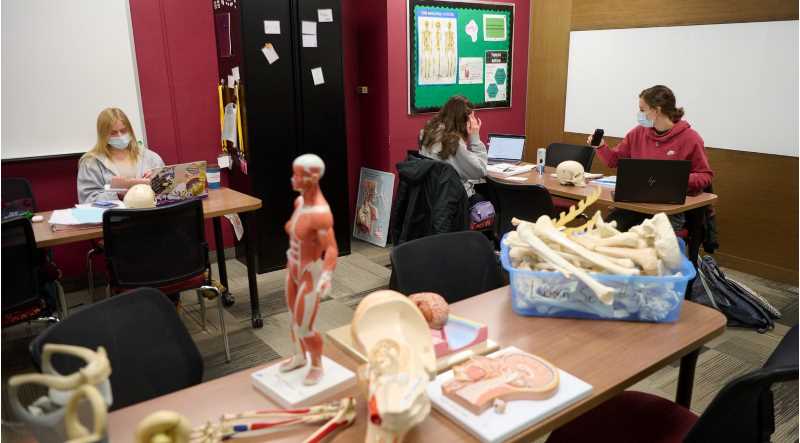 biology students
Check out the tutors available in the Learning Center- 251 Murphy Library. The experienced tutors are there to assist you in our biology courses.
The coordinator for the Biology tutoring is Dr. Lee Baines.

Biology tutor coordinator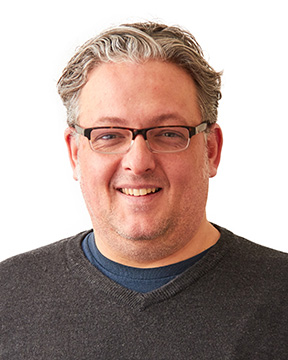 Here at the Murphy Learning Center, our tutors are all friendly, qualified individuals. All of our tutors have gotten good grades in the classes they tutor and have been recommended by faculty from their department. In addition to their knowledge our tutors are now taking a class designed to make them effective tutors. Meet our tutors!
Anastasia Grochowski
Anastasia Grochowski
Major: Biology, Minors: Spanish, Chemistry, and Communication
About me: I am from Elkhorn, WI. I am on the Pre-Physician Assistant track and plan to specialize in Women's Health. In my free time, I love to hang out with my friends, exercise, and hammock in the bluffs. On campus, I am a Vanguard, a tutor in the Public Speaking Center, and a Student Association Senator for the College of Science and Health.
Study Tip: The strategy that has helped me the most is "processing" my notes after each lecture. After a lecture, I write the most important points/concepts in a separate notebook to reinforce my knowledge. Then, I can use this notebook as a study guide.
Anastasia Hemann
Anastasia Hemann
Major: Microbiology
About Me: I am a sophomore from Farmington, Minnesota which is about 30 minutes south of the Twin Cities. I am a microbiology major with hopes to be an embryologist one day. In my free time I love to work out, be outside, hangout with my friends and family, and cook/bake. I also work at a restaurant off campus as a server which takes up a lot of my time too!
Study Tips: Use the resources you are given. For me, I like to use the slides to write on during class and review/go back over them after class. I also think the objectives/study guide is a helpful tool. Before an exam (a week or so before) I start writing responses to the questions and answers to the questions. Then I have a friend quiz me and try my best to answer the question, even if I get it wrong. I continue to do this until the exam. I also think repetition is the best way to memorize. For me, I use Quizlet to help memorize specific things/definitions I am required to know.

Casey Besse
Casey Besse
Major: Biology, Pre-Med
About Me: I am a senior from Freeport, IL. I am majoring in biology with an individualized minor, and I am planning on going to medical school after I graduate! I work as a CNA on the cardiac/ neuro floor in my hometown hospital. When I am not working, I volunteer as a mentor for underprivileged children in my hometown and similarly volunteer at a kids club here in La crosse. In my free time, I love to travel, spend time outdoors, read, and spend time with my dogs, friends, and family.
Study Tips: My biggest study tips are to study consistently, do a lot of active recall such as notecards, and write out everything you know on a whiteboard and try to connect the concepts. Reviewing a little bit of the material every day goes a long way and helps to prevent cramming right before an exam. For active recall, quizlet is my best friend, and I make study decks for every class. Lastly, being able to write out everything you know on a whiteboard helps connect all the concepts you have learned in class along with helping you figure out what information you might need to brush up on!
Cassie Coats
Cassie Coats
Major: Biology, Minors: Spanish and Earth Science

About Me: I am a sophomore from Berlin, Wisconsin. I'm a biology major with a concentration in environmental science. I'm still not sure what I'd like to post graduation, but I think working in conservation or restoration would be rewarding. In my free time I like to spend time outside, hang out with my friends, and go to the gym. Oh, and contrary to what it looks like in that photo above, I am not a Minnesota fan.

Study Tips: I would have to recommend looking over notes after classes to refresh what was learned earlier that day. Also, I think it helps to watch videos when it comes to learning processes. I like to find someone to study with before tests because sometimes it allows you to teach an idea to someone else and they say that's the best way to learn. I would also recommend starting to study at least a week before the test.
Catherine Skindingsrude
Catherine Skindingsrude
Major: Biology, Pre-PA Track Minor: Psychology
About Me: I am a Sophomore from Whitewater, WI. I'm a biology major with a concentration in biomedical science. After I graduate, I wish to attend Physician's Assistant school to become a Pediatric PA. In my free time, I like to hammock and go hiking, exercise, watch movies and spend time with my friends.
Study Tips: I recommend studying early and not cramming. Start at least one week prior to your exam and start re-learning the material a couple of hours at a time. The biggest tip I would recommend someone to do for studying is to take practice exams. Find one online based on the material you're studying or create your own based on practice problems/ homework from class. Additionally, talk things out loud to someone else or even yourself. Teaching material to someone else can help secure the information in your brain.
Emily Erickson
Emily Erickson
Major: Biology, Pre-Optometry Minor: Anthropology
About Me: I am a sophomore from Rochester MN. In my free time I enjoy reading, spending time outdoors, and taking my dog for walks. My only job during the school year is tutoring but over the summers I lifeguard and work at my dad's bouncy house business. I'd like to get another job with an optometrist to gain some experience in that field.

Study Tips: Explaining and discussing or drawing out all the information on an exam forces your brain to make connections between different concepts and helps you zero in on specifics that you don't understand completely and may need to refer back to. Practicing activities that were demonstrated in class is a great tool. It's easy to watch a professor do something and think it'll be easy for you but, until you practice it on your own, you don't know what difficulties you may potentially run into.
Mary Scott
Mary Scott
Major: Biology, Pre-PA Track Minor: Chemistry
About Me: I am a sophomore from Galena, IL which is a small town about 10 minutes from Wisconsin's southwestern border. I love the bluffs here and often can be found hiking/hammocking when it is nice out! I am the treasurer for the Pre-Pa club this year and am also involved with the Newman center near campus. I'm not sure what I'd like to specialize in yet, but hopefully something along the lines of family medicine.
Study Tips: Prioritize! Make sure you are planning out enough study time in order to feel comfortable before an exam. That said if you know you won't have enough time to look over all the material beforehand aim for quality over quantity. Breakdown the Main concepts and quiz yourself on whiteboards and notes until you feel you have absorbed the information. DO NOT sweat all the small details that are worth minimal points!!
Parker Hoff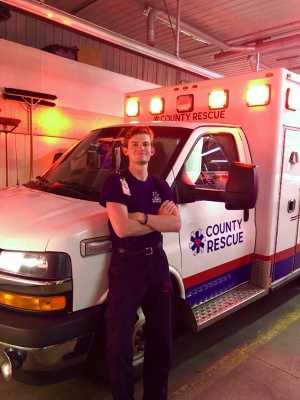 Parker Hoff
Major: Biomedical Science, Pre-Physician Assistant Track
About Me: I am from De Pere Wisconsin, which is right by Green Bay. This is my first semester tutoring biology. I am really interested in specializing in either pediatrics or neonatology as a Physician Assistant. In my free time, I enjoy running, working out, biking, listening to music, and playing with my Chihuahua, Chip.
Study Tips: Repetition. Repetition. Repetition. It is super important to just "see" material more and more. Skim through the material before the lecture, pay attention and take some notes during lecture, then do a quick review of the material a couple hours after you get back from class. This gives your brain to digest the material and then you can see it again.
Also, utilize your resources. The professors are the number 1 resource that you have as a student and are happily able to help you when concepts get tricky.
Peyton Kurtz
Peyton Kurtz
Major: Biology, pre-genetic counseling
About me: I'm a senior from Oshkosh, WI and I'll be graduating in the spring. I'm studying biology with a minor in chemistry and I'm currently applying to graduate school to study genetic counseling. I've played for the UWL women's club soccer team all 4 years of undergrad. In my free time I like to watch movies and draw.
Study tips: Every day that you have lecture, try to go home and study it that same day. Keeping up with new material will help with your understanding as opposed to running to the tutors or office hours the day before the exam. As often as you can, draw pictures or write things down without looking at your notes. Testing yourself that way really tells you what you have down versus what you still need to study.
Reid Huss
Reid Huss
Major: ESS-Sport Management Minor Business Administration
About Me: I am a sophomore from Black Creek, Wisconsin. Which is 15 minutes north of Appleton and 20 minutes west of Green Bay. I am currently studying for my bachelor's in sport management. I am planning to go to PT school or law school post-graduation from UWL. In my free time I enjoy hunting, fishing, and watching Sports. I also enjoy spending time with friends and family.
Study Tips: Do not cram before exams. Try to give yourself at least a week but preferably more time to study before exams. Study in little pieces to build on your knowledge. Try to teach material to others is one of the best ways to learn said material. Try to understand the basics of what you're studying and build from there.
Sam Kick
Sam Kick
Major: Biology (pre-dental) Minor: chemistry
About me: I'm a sophomore from Onalaska, WI, so not too far from here! I'm a biology major with a chemistry minor with the hopes of becoming a dentist one day. Some of the things I like to do in my free time are hanging out with friends, watching Netflix, and playing basketball, which I am a part of the men's basketball team here at La Crosse. I also bartend at a local restaurant here in the summers when I have some more time.
Studying tips: Study early. That is the biggest piece of advice I would give to students trying to improve their grades and to really learn the material. Cramming can only do so much, especially with the amount of information that we are expected to remember. Instead, start studying at least a week before the exam, in smaller study sessions throughout the day, which makes studying much more efficient and successful. The other piece of advice I can give is to print off your professor's lecture power points before class and take notes on those. This way, you can focus on the additional bits of information your professor is talking about that is beyond what is up on the slides instead of scrambling to write down the vague points up on the screen.
Taylor Bushman
Taylor Bushman
Major: Astrophysics
About Me: Currently, I am enrolled as a non-degree student at UWL, and I am taking biology prerequisites to apply to a master's program for either medical dosimetry or for astrobiology. I did my undergrad at UCLA but am now back home in Wisconsin. Home is a town called Bevent which is about two and a half hours away from La Crosse. When I'm not at school or work, my favorite things to do are traveling, going to sporting events, watching movies, and basically anything outdoors (especially hiking). I just recently hiked Half Dome in Yosemite, which now makes section hiking all of the Appalachian Trail the top of my hiking bucket list.
Studying Tips: The studying tip that I would most recommend would be to make sure you're utilizing the learning method (visual, auditory, kinesthetic) that works best for you. For example, I personally learn best through visual learning by looking at models, grouping similar topics in class using colors in notes, or by diagramming difficult concepts into a chart format. If you're an auditory learner I would recommend playing recorded lectures multiple times or in the background of studying to relisten to difficult concepts. You can also talk out your notes either to yourself or to a friend to associate your voice with the concepts. For kinesthetic learners, I would say to take advantage of lab time when you can or to find activities to perform that help link a topic to a real-life example.
Teja Bhimavarapu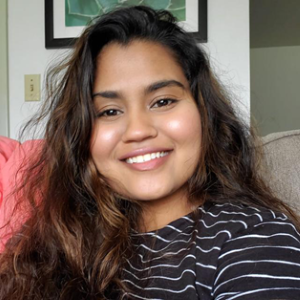 Teja Bhimavarapu
Major: Biology
About Me: I'm from Mequon, Wisconsin. It is a 30 minute drive from Milwaukee. I'm a senior at UWL. I'm planning on going to medical school after my graduation. This is my first in-person tutoring! In my free time, I draw or paint and read books. I love playing tennis and hanging out with my friends.
Study Tips: Look for the big picture. Biology 105 talks about wide variety of topics unlike your upper level classes that focus on a specific topic and hence, it can be hard to grasp topics. So, always try and look for the big picture. Concept maps and drawing everything on one page can help you a lot in the exam. It might seem like an unnecessary detail to know where it happens or what happens in its surroundings but knowing those little details will help you with the big picture. And big pictures are extremely helpful during exams.