Eagle Advantage
---
In support of our campus mission statement "in which the entire university community is fully engaged in supporting student success," this tool was developed to help students recognize the competencies they're developing, learn how to articulate them to others, and apply them as they "take their place in a constantly changing world community."
Below are eight competencies that national employers have highlighted year after year as being critical to success in the workforce. Click on the images below to learn more about the competencies and how students can develop skills in each area.
Competencies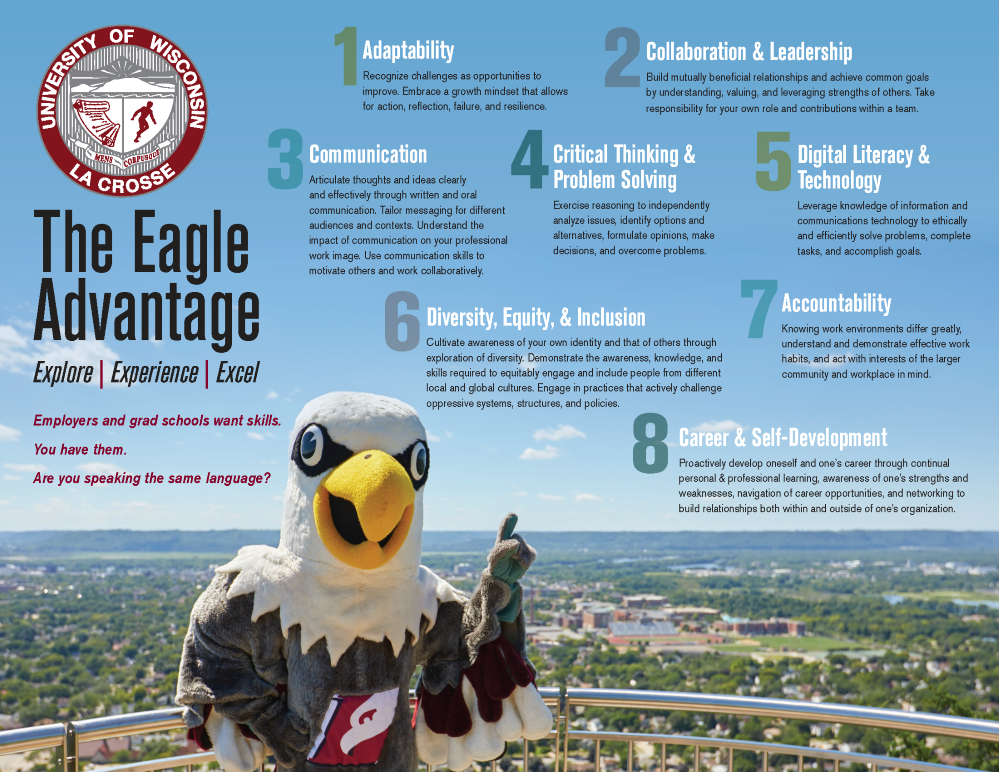 Collaboration and Leadership
Critical Thinking and Problem Solving
Digital Literacy and Technology
Diversity, Equity, & Inclusion
Career & Self-Development
Faculty Resources
Course Design & Mapping to EA

expanding section
Community Engaged Learning Flow Chart
Undergraduate courses designated as Community Engaged Learning (CEL) courses require a minimum of 15 hours of work with/for a community partner and must include at least one Student Learning Outcome aligned with a minimum of one EA competency. This PDF highlights the processes for developing a CEL course. More information about this optional designation can be found here: https://www.uwlax.edu/community/instructors/
Mapping Student Learning Outcomes (SLO) to Eagle Advantage (EA)
This example from a faculty member in the Economic department demonstrates how student learning outcomes are mapped to EA competencies. Students use multiple competencies throughout the course while creating models, analyzing data, writing a paper, presenting results, and working in groups.
Mapping Academic Department to EA
This example from Melissa Weege & Amanda Carpenter in the Radiation Therapy Program lists how students are developing EA competencies through specific classes, clinical internships, student organization, and the RT profession and community.
Syllabus & Assignment Examples

expanding section
This is a general sample syllabus statement that illustrates how course content connects to EA career readiness competencies. Instructors can choose to incorporate this language into their course syllabi and are welcome to tailor the statement accordingly.
EA Reflective Writing Assignment
This example from Lindsey Steiner in the English department who incorporated the EA into two reflective writing assignments. The first assignment asks students to examine career readiness competencies they have developed in the course and to select additional competencies they wish to develop or strengthen. The second assignment guides students through using EA language to describe course projects on their resume.
Eagle Advantage-Infused Projects & Reflective Writing Prompts
Explore Eagle Advantage-infused projects & reflective writing assignment prompts from instructors across UWL. Each project includes a brief explanation for instructors, EA syllabus statement, and EA-focused assignment. These projects were developed during the summer 2022 Eagle Advantage Infusion training.
Career Planning Worksheet in LS200, FYS, and LS300
The competencies were introduced in LS200 to support 1st and 2nd year students who are exploring major and career options. They discussed opportunities to develop in the competency areas and completed the worksheet to plan their next few semesters to strategically target areas for improvement. The activity was also assigned to students in First Year Seminar as part of the Career Planning module. In LS300, a different competency was highlighted each week and students reflected on how they have developed in that area so far and how it fits into their future career plans.
Staff Resources
Student Employee Evaluation Examples

expanding section
Murphy Library EA Student Worker Evaluation
The Murphy Library conducts a performance appraisal on each student worker and groups performance aspects by EA competency. The employee rates their job performance on a 5-point scale.
Peer Advisors Self-Evaluation & Reflection
Peer advisors and interns in the Academic Advising Center & Career Services office self-evaluate themselves on a 3-point scale for each of the EA competencies and supervisors provide feedback. The competency definitions were expanded to include experiences and skills utilized in the role.
Student Internship Evaluation, Supervisor Internship Evaluation, and Work Progress Reports
Students complete a self-evaluation for an internship-for-credit through UWL Career Services. Site supervisors complete a similar post-evaluation of the intern. Students also complete a mid-term and end-of-term reflection in a work progress report. Several questions focus on EA competencies and asks for examples of how they demonstrated the competencies in the internship. These evaluations and reports are administered through surveys. The questions can be adapted to evaluate students you supervise.
Student Employee Development

expanding section
Career Services Internship Goals
EA competencies can be used to create developmental goals for internships. This sheet help interns reflect on the skills they would like to develop based on the EA competencies and set SMART goals.
Desk Coordinator – DA Development Model
This development model is used by the Residence Life desk coordinators to implement an individualized approach in helping desk assistants develop the EA competencies. They focus on one competency per month.
Peer mentors and researchers in the Scholarship Resource Center are encouraged to regularly record how they applied the EA competencies during consultations with students and other responsibilities in their roles. They also reflect to identify areas of improvement. Adapted from the Financial Aid Office EA Student Review Form for building students' skillset.
Student Resources
Resume Writing & Interviewing

expanding section
Resumes include bullet points to share skills and accomplishments from a variety of experiences. To start an effective bullet point, it's beneficial to use a descriptive action verb so the reader can imagine you performing the action. Use this list of action verbs for inspiration when you're stuck or to diversify the verbs used on your resume.
Behavior Based Interview Questions
Some employers believe that the best predictor of future success is past success. In behavior- based interviews, you will be asked to give specific examples or stories to provide evidence that you have the skills required for the position. Since the EA competencies are qualities employers want, this sheet provides examples of potential questions asked during interviews. Use this sheet to practice your answers using the STAR method.
STAR Interview Answers Worksheet
This worksheet can be used to write out or jot down notes for examples, situations, or stories that you could use for behavior-based interview questions. Create a scenario for each of the EA competencies by describing the Situation, Task, Action, and Results (STAR). Then, use the worksheet as a guide as you verbally practice your answer.
Reflection Tools – How to talk about Eagle Advantage

expanding section
Use this worksheet to plan when and what activities you will do to develop the Eagle Advantage competencies. For ideas on how to explore, experience, and excel in the EA competencies, click on the EA images.
Eagle Advantage for Role (Template)
This template can be used to reflect how you are utilizing and gaining EA competencies in any role. Enter your role at the top, then fill out a few examples for each EA. Then, share these examples on your resume, cover letters, personal statements, or during interviews! These examples can help you get started:
General Education Meets Eagle Advantage
Use this sheet to identify and track how you are developing Eagle Advantage competencies in Gen Ed classes. If you need help brainstorming ideas, schedule an appointment with a career advisor through Navigate or calling 608.785.6950