Eagle Advantage
---
In support of our campus mission statement "in which the entire university community is fully engaged in supporting student success," this tool was developed to help students recognize the competencies they're developing, learn how to articulate them to others, and apply them as they "take their place in a constantly changing world community."
Below are eight competencies that national employers have highlighted year after year as being critical to success in the workforce. Click on the images below to learn more about the competencies and how students can develop skills in each area.
Competencies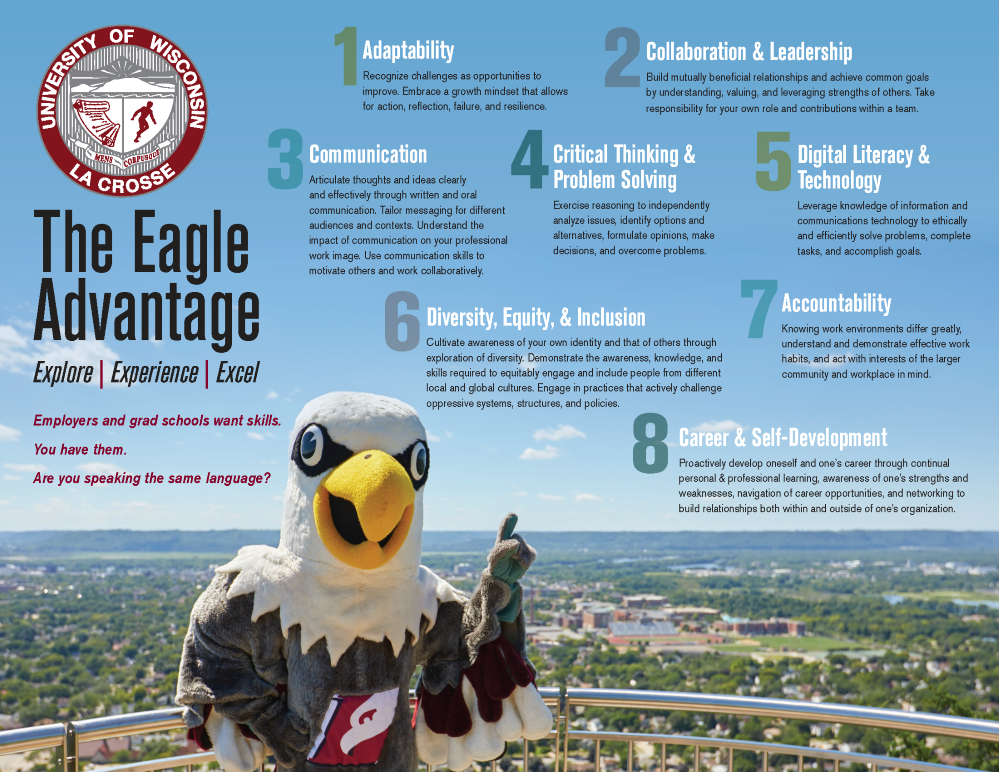 Collaboration and Leadership
Critical Thinking and Problem Solving
Digital Literacy and Technology
Diversity, Equity, & Inclusion
Career & Self-Development
Faculty Resources
Course Design & Mapping to EA

expanding section
Community Engaged Learning Flow Chart
Undergraduate courses designated as Community Engaged Learning (CEL) courses require a minimum of 15 hours of work with/for a community partner and must include at least one Student Learning Outcome aligned with a minimum of one EA competency. This PDF highlights the processes for developing a CEL course. More information about this optional designation can be found here: https://www.uwlax.edu/community/instructors/
Mapping Student Learning Outcomes (SLO) to Eagle Advantage (EA)
This example from a faculty member in the Economic department demonstrates how student learning outcomes are mapped to EA competencies. Students use multiple competencies throughout the course while creating models, analyzing data, writing a paper, presenting results, and working in groups.
Mapping Academic Department to EA
This example from Melissa Weege & Amanda Carpenter in the Radiation Therapy Program lists how students are developing EA competencies through specific classes, clinical internships, student organization, and the RT profession and community.
Syllabus & Assignment Examples

expanding section
This is a general sample syllabus statement that illustrates how course content connects to EA career readiness competencies. Instructors can choose to incorporate this language into their course syllabi and are welcome to tailor the statement accordingly.
EA Reflective Writing Assignment
This example from Lindsey Steiner in the English department who incorporated the EA into two reflective writing assignments. The first assignment asks students to examine career readiness competencies they have developed in the course and to select additional competencies they wish to develop or strengthen. The second assignment guides students through using EA language to describe course projects on their resume.
Career Planning Worksheet in LS200, FYS, and LS300
The competencies were introduced in LS200 to support 1st and 2nd year students who are exploring major and career options. They discussed opportunities to develop in the competency areas and completed the worksheet to plan their next few semesters to strategically target areas for improvement. The activity was also assigned to students in First Year Seminar as part of the Career Planning module. In LS300, a different competency was highlighted each week and students reflected on how they have developed in that area so far and how it fits into their future career plans.